The History of Jubilee Lakes Fishery
Designed especially for the needs of the stillwater fly fisherman, Jubilee Lakes is set in a tranquil and secluded valley. As you can see from the image below Jubilee Lakes consists of two trout fishing lakes. The larger lower lake, 2.5 acres and the smaller upper lake 1.5 acres, (approximate sizes). When fly fishing you can fish both lakes.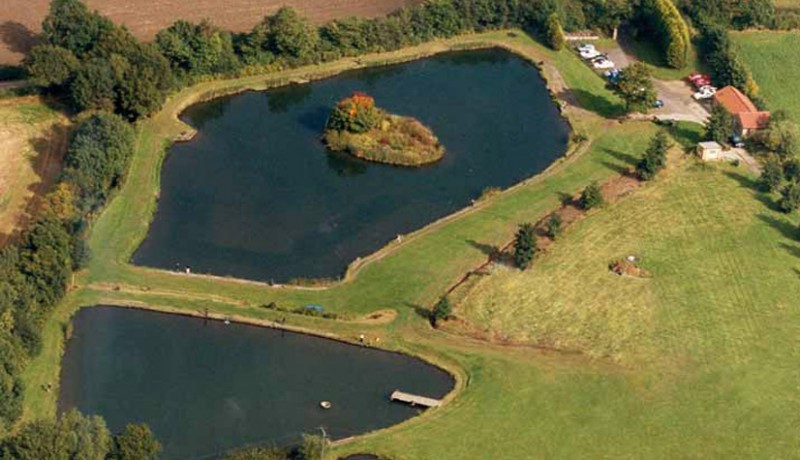 We came here in 1988 and almost immediately excavated the larger lower lake and then in 1990 altered the smaller lake - deepening, desilting, strengthening the dams and building jetties and paths. Improving the access for fly fishing.
These photographs of the excavation work here at the trout fishery, especially the bottom left photo, give you the shape of the lake bed. It's not so easy to give an idea of the depth. At the far right of that photograph the trout lake is 13' deep - at the near end about 8'. The "U" shaped trench is another 4-5' deeper again. When trout fishing you will often feel your fly come over the edge of this trench - slow down and feel for the take. It's an area well worth spending a little time on.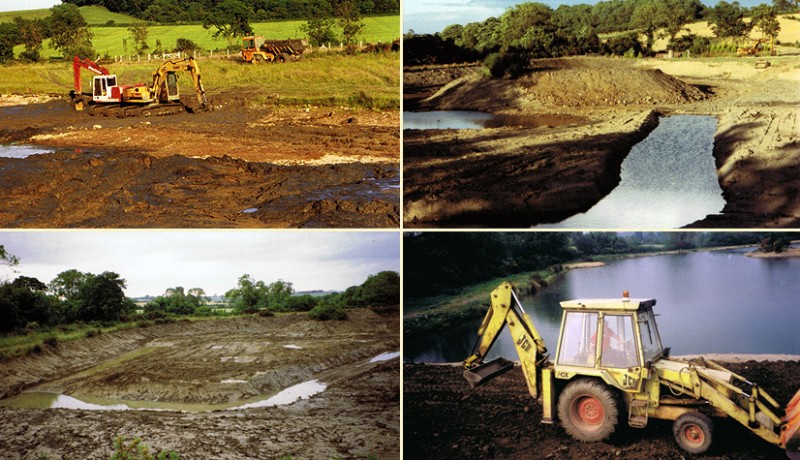 Both trout lakes are stocked the same with rainbow trout from 2.5lb. We stock regularly with rainbow trout and always on days when the fly fishery is closed. This makes for better sport allowing the stocked fish the chance to settle in before trout fishing resumes.
Banks around the lakes are very well maintained and wheelchair access - though not available everywhere is generally good.
Water is supplied from rock strata beneath the trout fishery and therefore comes in at a steady 10 - 11 degrees. This has the effect of buffering temperatures in the trout lakes keeping the water cooler in the summer (when many fly fisheries are fed from warm river water) and reversing the effect in winter - keeping the lakes warmer. As a consequence the lakes don't often freeze, though we recommend trout anglers phone to check - just in case!
Another great advantage is that being fed from groundwater helps to keep our trout lakes disease free.
How far is it for learn to Fly Fish or visit the Anglers' Lodge Tackle Shop at Jubilee Lakes Trout Fishery?
Situated in the south of County Durham between Teesside, North Yorkshire, Cumbria and Northumbria and convenient for the A1 (M) Motorway, A68, A6072. We are in easy reach of the tourist destinations of Teesdale and Weardale as well as the conurbations of Wear Valley and Teesside.
Distances. An approximate guide. ( ) = distance to us in miles.
Shildon (4), Locomotion National Railway Museum (4), Newton Aycliffe (5), Bishop Auckland (6), Kynren - An Epic Tale of England (8), Kynren Auckland Castle (8), Darlington (7), Spennymoor (10), Raby Castle (12), Staindrop (12), Crook (13), Ferryhill (13), Stockton-on-Tees (15), Teesside (15), Barnard Castle (18), Bowes Museum (19), Middlesbrough (19), Durham Castle (19), Durham Cathedral (19), City of Durham (20), Catterick (21), Hartlepool (23), Chester-le-Street (24), Northallerton (24), Thornaby (24), Billingham (25), Beamish Museum (27), Yarm (26), Sunderland (28), Washington (28), Peterlee (33), Newcastle upon Tyne (33), Gateshead (38), Redcar (38), Ripon (38), Hexham (42), North Shields (45), South Shields (47), Bedlington (47), Whitby (49), Cramilngton (50), Harrogate (50), Blyth (56), Ashington (57), York (59), Penrith (63), Alnwick (67), Scarborough (67), Leeds (67), Kendal (72), Bradford (74), Wakefield (75), Carlisle (81), Bridlington (83), Doncaster (84), Barnsley (87), Market Weighton (87), Lancaster (88), Huddersfield (91), Beverley (95), Workington (99), Maryport (100), Sheffield (104), Whitehaven (104), Hull (112), Dumfries (114), Manchester (114), Dumfries (114), Blackpool (118), Castle Douglas (138), Edinburgh (155), Glasgow (177), Birmingham (177), Aberystwyth (247), London (250), Belfast (250), Dublin (256), Aberdeen (264), Swansea (321).