Latest News
IMPORTANT. For the rest of this month or until further notice we will only be open 9a.m to 2p.m on our usual Wed, Thurs, Fri, Sat. We will do a 5 hour ticket for the price of a 4 hour and will also continue to do the £21.00 2 fish ticket. Dave has fallen off a ladder and landed on his shoulder. He is OK but is going to be out of action. Now had he fallen on his head he'd have been OK, would just have bounced!!!
Weather conditions here - updated 8.00a.m. Saturday 20th January.
Sorry the lakes are still frozen this morning. If you are coming in the lanes are very snowy & slippery and remember we are still only open 9a.m to 2p.m.
Photo taken Thursday 18th Jan - very pretty but what a nuisance!!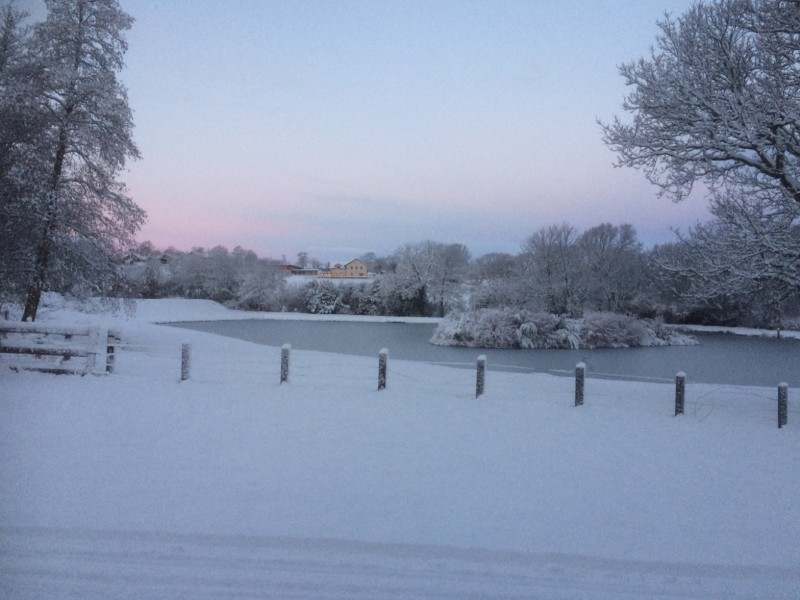 Saturday 13th January
Fishing is going very nicely and we are averaging over four a rod and since most anglers are on four hour tickets at this chilly time of year that's pretty good.
Best patterns are still the small imitative ones. Although anglers have caught on zonkers and blobs the anglers who have done best have caught on tiny black buzzers and hares ears. Still plenty of trout rising in spite of the cold.
Wednesday 20th
The lakes have been open at last today. Some really good fishing and a 6lb 12oz taken by Dave Scott from Teesside on a Jack Frost ( white & red ). Just to mention that tomorrow is the last day we can post to you to arrive before Christmas so even for one of our gift vouchers get your order in before 3p.m. tomorrow. Shop & fishery open 9 to 4 tomorrow, Friday & Saturday then closed until the following Wednesday 27th.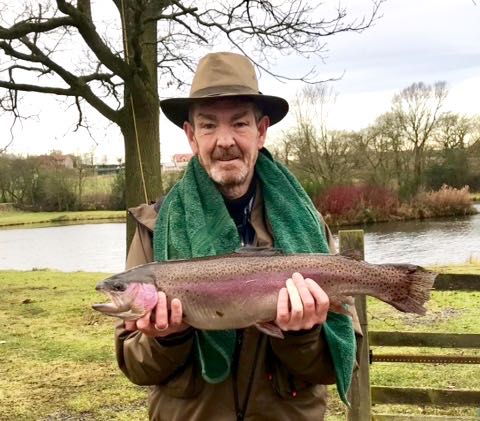 Not much time left now until Christmas but not too late for you to order one of our lovely Gift Vouchers. New stocks just arrived, you can buy them for any value from £5.00 and use them either for fishing or tackle. Ideal gift and a safer bet when your partner isn't sure whether you fish a fly or a maggot - and much better than a pair of socks. Order them online or by phone and we'll send them post free.
Please note the tackle shop and weather permitting also the lakes will be open as usual this week - Wednesday, Thursday, Friday & Saturday 9a.m to 4p.m. We'll be dispatching the last orders on Friday.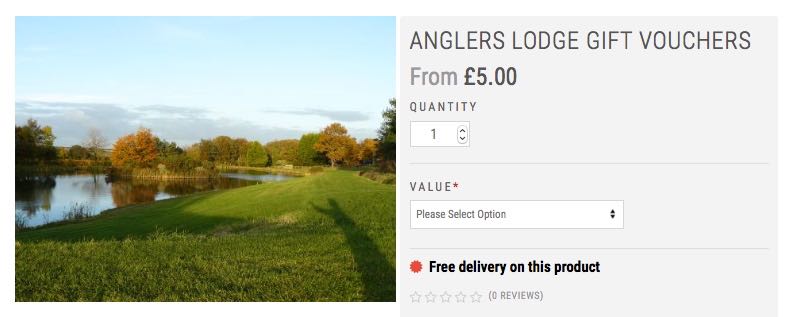 Fishing this last week to Saturday 9th December
Not so many anglers out fishing and thats not too surprising considering the weather but we've had some really good sport and those that did fish really enjoyed it. Anglers averaged over 7 trout per rod over the last week - and considering most anglers were only fishing a four hour ticket that's pretty good fishing.
Snake flies, green & black or white & chartreuse like the one below were very effective as well as the olive zonker and the fluffcat. Still on either floating or intermediate lines.
Important - we are open our normal days throughout the holiday - Wednesday, Thursday, Friday & Saturday.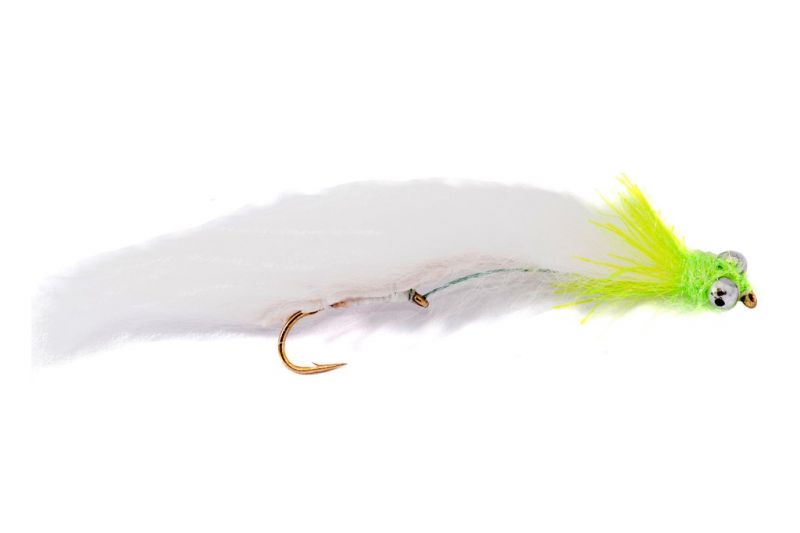 The Fario Mini Snake
Getting very close to Santa Claus time and so we were pleased to get a Petitjean delivery this week including their Daylight Lamp and Tool Rack which we've been waiting for for ages. Also new in this week the Flybox MX-D Blob Material - Eggstacy mixed with Fritz.
Fishing on the lakes was really good again today in spite of the wind so go for Snakes, Fluffcats & Zonkers. White, Lime & White or Olive. Plenty of trout landed and the anglers who braved the wind definitely deserved them.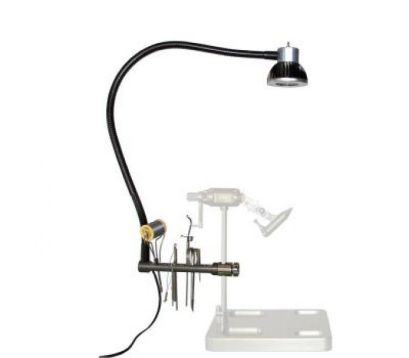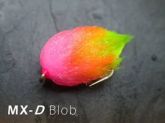 Fishing this last week to Saturday 2nd December
Not many anglers out fishing last week due to the moderate weather. Saturday was our only busy day but the anglers that came out were very well rewarded, half of them having a dozen or more trout. Very lively fishing in spite of the cold weather.
Jubilee's most effective cold weather pattern, the Cats Whisker, did the trick taking many of the trout caught while the Olive Bloodworm also worked well.
The weather has turned milder and the snow has gone and trout are moving on the surface today so hopefully plenty of action this coming week.
Fishing this last week to Saturday 18th November
Fishing a bit quiet this week mainly because the trout don't seem too sure of what they want. They've been taking on patterns such as the zonker, cats whisker and damsel and the black beetle or black buzzer but to narrow it down a bit the olive bloodworm or the olive buzzer have definitely been the most effective and still fished on a floating line.
Alan Corr, top left, from Wingate took a 4lb rainbow on a black buzzer and Graham Caygill, top right, from Heighington took a 3lb 8oz also on the black buzzer. Brian Ridley, low left, from Bishop Auckland took a 3lb 1oz trout on a bloodworm and then Anthony Hauxwell, low right, from Staindrop had a great day. Anthony was fly fishing for the first time. He was on one of our 'Bring a Beginner' tickets being taught by his friend Steve Aldred. A few missed takes down the line Anthony managed to land two lovely rainbows weighing in at 4lb 4oz and 3lb 11oz, both on the olive buzzer. Great start and good luck Anthony!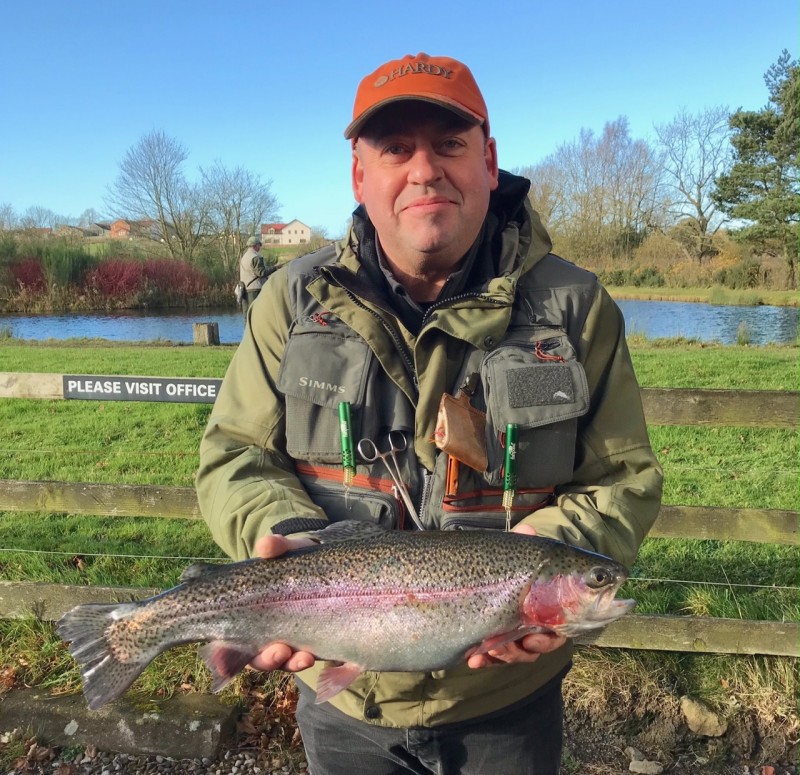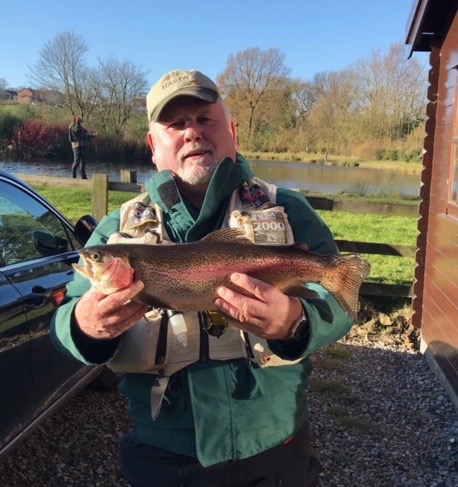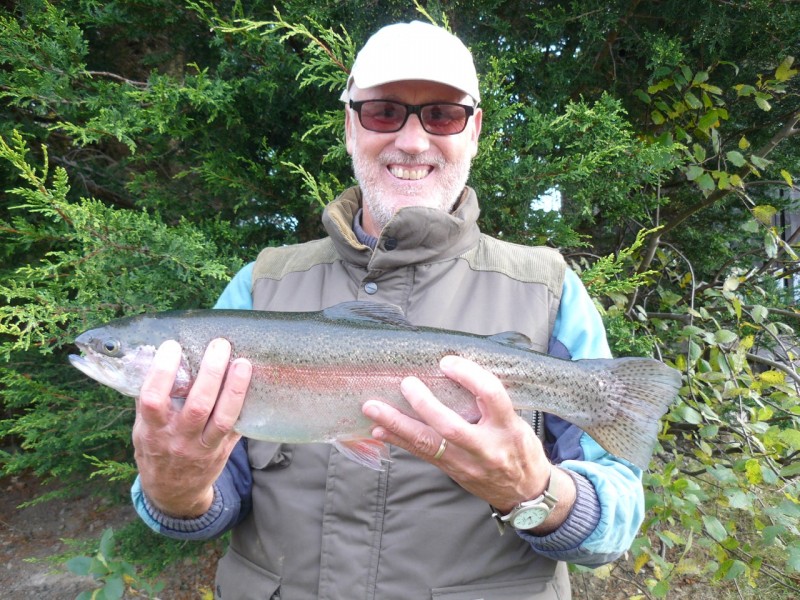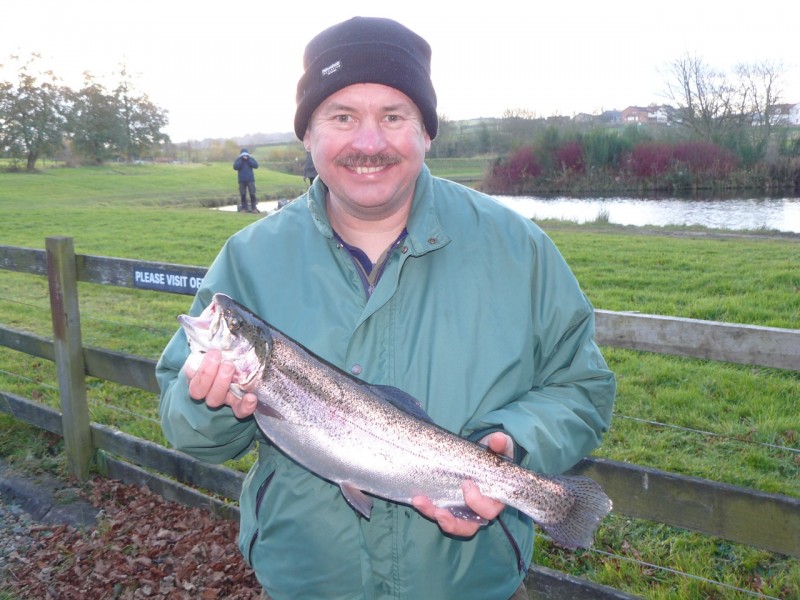 Fishing this last week to Saturday 11th November
Pretty decent for most of the week and though Friday was a bit quiet it fished really well on Saturday even though the conditions were much the same both days.
Zonkers, bunny leech and white lures generally, olive or pink bloodworm, damsels and buzzers have all taken trout and the black beetle is still taking one or two on the surface though there has been less surface activity with the cooler weather and still bright days.
Brian Sunderland from Darlington, below, took a nice trout of around 4lb on a bloodworm and there were some good trout caught and released.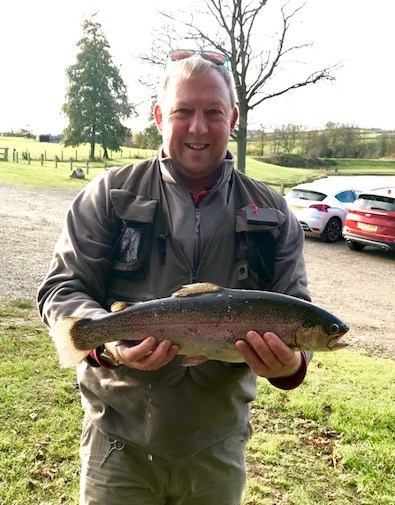 Fishing this last week - Saturday 4th November
Generally plenty of trout caught but the patterns are very changeable.
Subsurface the olive bloodworm and the black tadpole or similar black patterns are taking. The bunnyleech and the olive zonker have really started to work well stripped fast and no wonder. The frosts have just started and this is often a good time for us with the trout really after the fry. You can clearly see them chasing them.
Derek Parker (see below left) was telling us that one of the trout he caught was only a couple of pound but he reckoned it contained about 2 dozen little silver fry. Good sport.
Then again if the leaves are coming down the trout will almost certainly be rising and taking on patterns like the black beetle, foam daddy and the klinkammer.
Image is of Derek Parker with Dad Eric. They've fished here with us for many more than twenty years.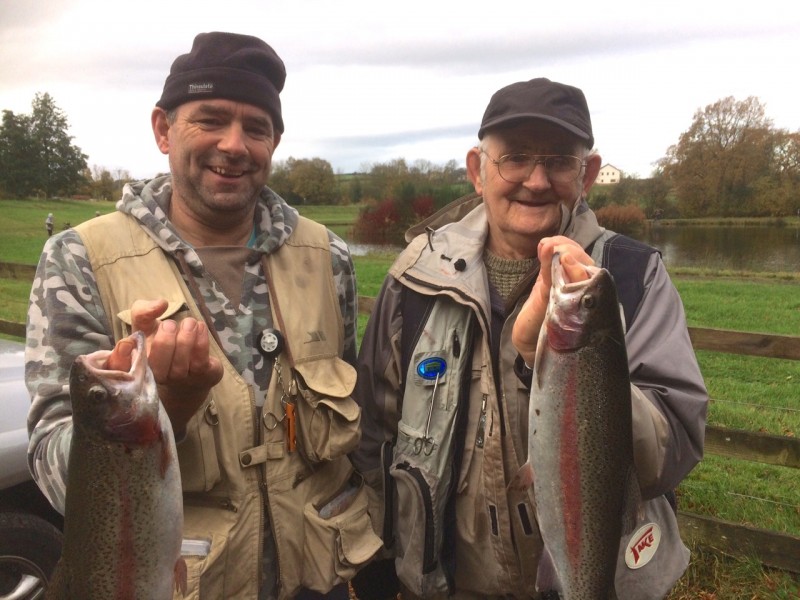 Fishing this last week has been much as the last couple of weeks. Trout have been chasing fry and so some anglers have been catching on snakes, bunny leech, bloodworm and blobs - though never too sure where the blob comes in.
But if the wind has been blowing the leaves off the trees the fishing has been completely different with trout on the surface and taking readily on Daddies and Beetles. Great sport. There is obviously something on the leaves drawing the trout up to the surface.
As an example of how different the fishing can be from one minute to the next Derek Parker from Consett taking twelve trout on the bloodworm in no time at all while Brian Wallace from Yarm took a dozen on an Orange Foam Daddy and especially on the top lake on a beetle.
Image is of Steve Campbell from Eaglescliffe who took a couple on nice trout on an Olive Zonker - always a good Jubilee pattern!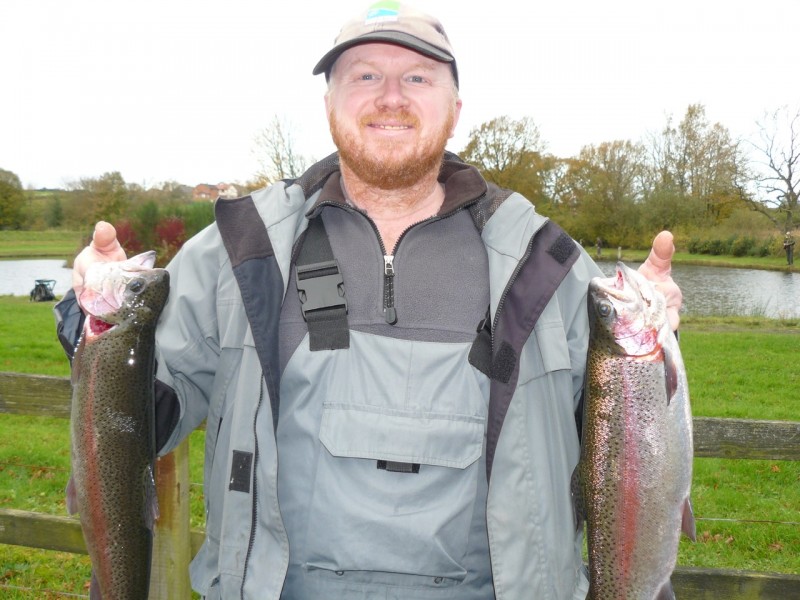 Tuesday 17th October
A changeable weeks fishing but when it was good and it often was then it was excellent.
Much of the fishing was on the top and especially on the top lake with brown muddlers and daddies doing especially well - Brian Wallace from Yarm took a dozen on daddies - but bloodworm, bunny leech and blobs also caught.
Image is of Richard Hore from Darlington with a 3lb 12oz rainbow caught on a blob.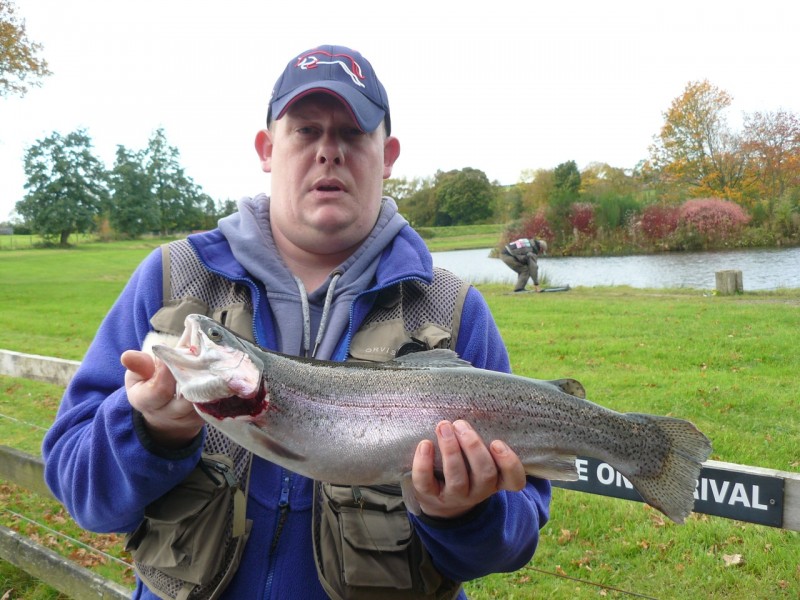 Thursday 12th October
All the new Greys clothing in the shop now. Daughter Angie's been unpacking it today and got pulled in for a quick bit of modelling. New clothing looks great. Looks much better worn than on the hanger.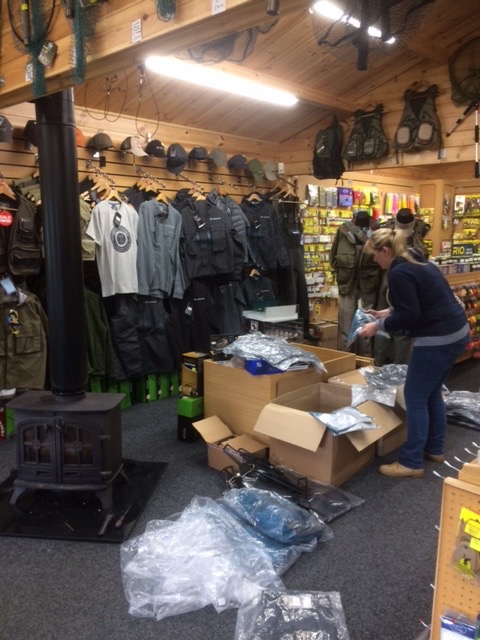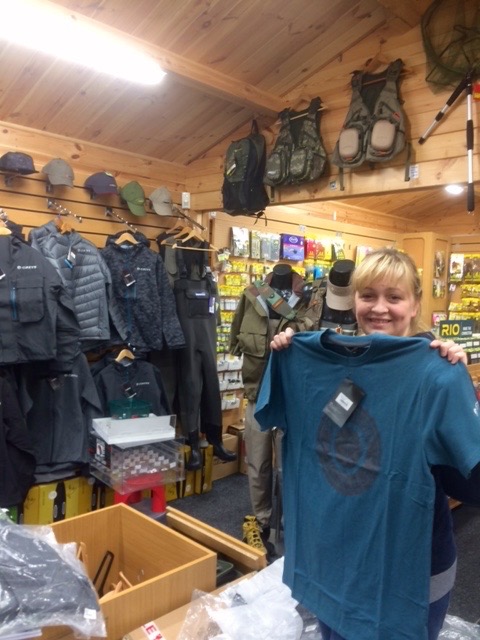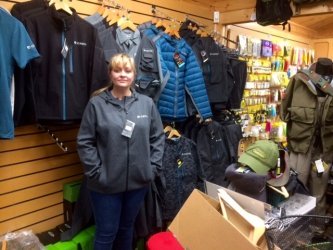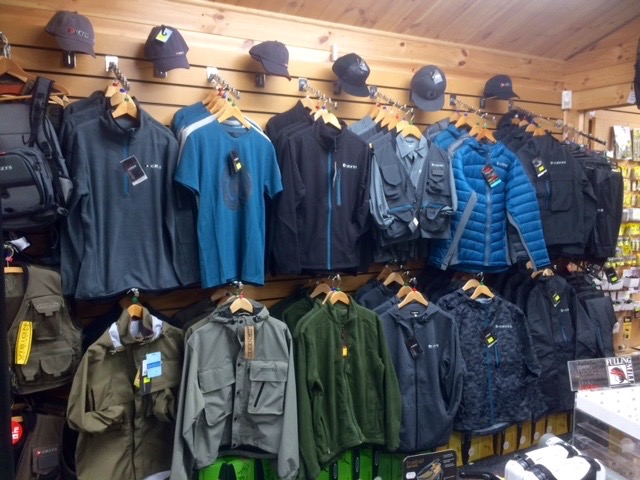 Wednesday 11th October
Just arrived - Flybox Eggstacy Ltd Edition Intense Sunburst - and also the new Flybox F20 Hackle - details for the F20 coming shortly.
Tuesday 10th October
Not a bad weeks fishing at all but changeable hence the long list of catching patterns - Black Snatchers, Black Tadpoles, Natural Minkie, Gold head olive nymphs, buzzers and especially Cats Whiskers and Yellow Dancers.
Ken Bell from Bishop Auckland did OK with twelve trout on a short four hour session and there were plenty of good trout returned. That time of year when the bigger trout are active.
Monday 2nd October
A very changeable weeks fishing absolutely excellent to quite difficult at times.
Wednesday and Thursday were both difficult with none of the popular methods steadily catching. Yet on Friday it was hard to do anything wrong. Patterns had to be fished deep and very slowly. The weighted olive nymph, gold bead orange blob, gold bead damsel were all very effective - weighted patterns fished on an intermediate or even a sinking line. Quite unusual here where a floating line is usually all that's required.
Just when we thought 'the method' had been discovered on Friday, on Saturday the trout didn't want to know about taking deep. Although other anglers caught only Ryan Matthws from Bishop Auckland did really well. He was using an olive worm or snakefly with a roly poly retrieve. Still on a sinking line but the very fast and smooth retrieve kept the fly higher in the water.
Lets hope for more settled weather this week rather than the sharp changes from sunshine to heavy downpours which we're sure upset the fishing this last week.
Thursday 28th September
Lower lake just as we opened at nine this morning. Mist had cleared. Perfectly still - lovely!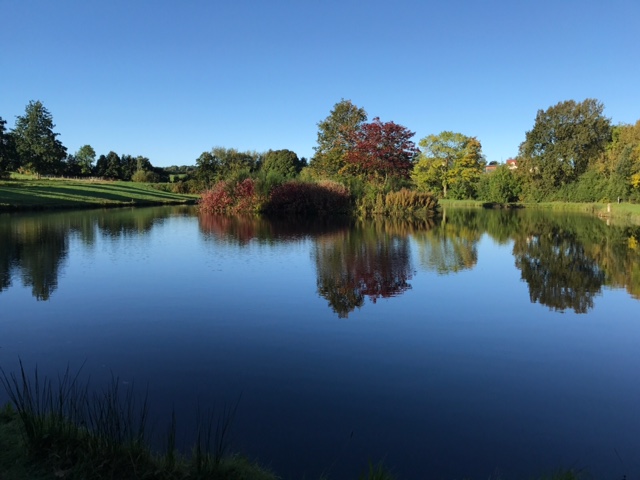 Monday 25th September
Been another good weeks fishing except that the patterns have been much more variable. We've had months of fishing on the surface or just subsurface with Daddies, CDC's, Suspenders and buzzers - the best fishing we've had for years in fact - but the weather is changing now.
This week catching patterns have been deeper down - the drowned daddy, diawl bach, beaded nymphs, bloodworm, humbugs, black tadpole and the blob. The intermediate line has again been productive this week where we would normally always recommend fishing a floater here - even in the depths of winter. The intermediate and that handsome pattern, the orange blob, has proved a great combination. Phil Totten took thirteen using the method on Wednesday and Allan Proud took eleven on the same method on Saturday and lost as many off even when others were struggling a bit.
You will have seen the 'little' beauty Eamonn Keveney caught earlier in this week in the post below - caught on a Fluffcat
And more news this week. The first part of our new for 2018 Hardy Greys range arrived in the shop this week. No room to move for boxes once it was all in. There's some good stuff in there and much more to come yet including a complete new range of clothing from Greys including shirts, fleeces and outer wear. We expect that to arrive in around a weeks time so watch this space.
In the meantime go to our Anglers' Lodge website for stock available in the shop and online now.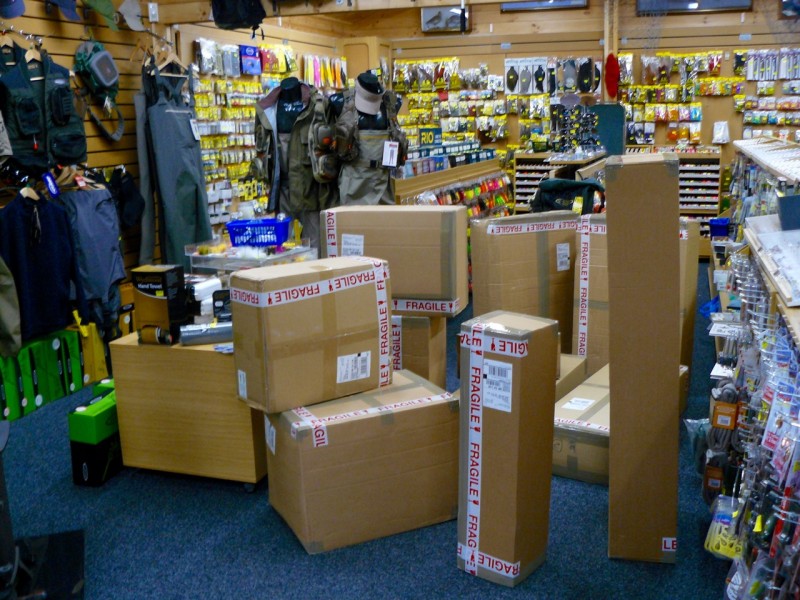 Just arriving, the first part of the new Hardy Greys 2018 stock delivery. With much more to come - but where to put it all???
Wednesday 20th September
Mr Eamonn Keveney from Peterlee with a 7lb 10oz caught on a Fluffcat. Was a good days fishing particularly on the morning. Silver Humungus, black cats and black buzzers did well on the lower lake. Bloodworm and sunburst blob did the trick up on the top lake.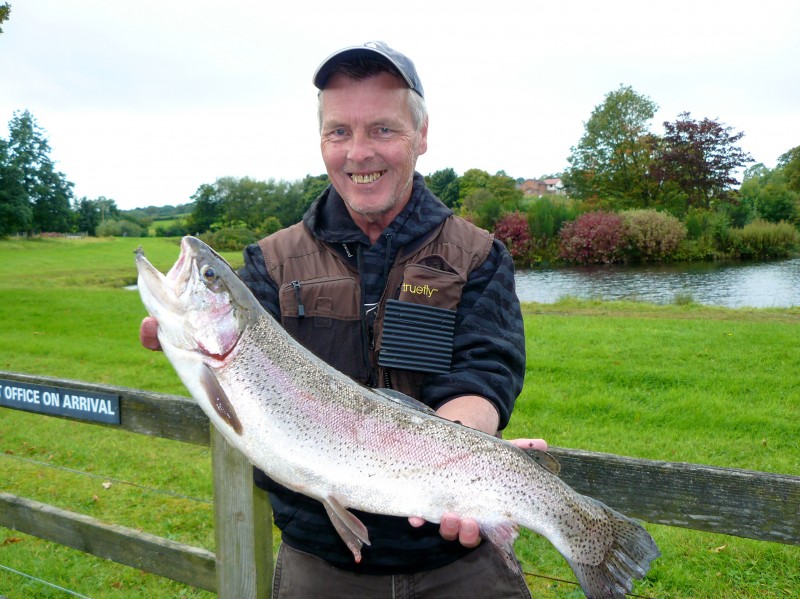 IMPORTANT -
Well hidden secret? If you fish for salmon or Sea Trout this is REALLY important.
You won't get another chance for a long time to do anything more about this. It is the consultation about salmon stocks and their exploitation particularly by offshore nets. If you have an opinion voice it now. If you need help Shaun O'Dowd of Willington Angling Club will help or we can email you a copy of his and our responses purely as a guide because this is so complex. Shaun has helped us so much with this. The Consultation is a good in depth document but was it made complex so that no-one would bother to respond. Everyone purchasing an online licence should have been sent this link yet very few seem to have had it. Anglers not buying a licence online won't have been told about it at all - the official title - The National Salmon Byelaw Consultation and Net Limitation Order Review.
The link is https://consult.environment-agency.gov.uk/fisheries/managing-salmon-net-and-rod-fisheries/
Thursday 14th September
Alan Corr - famous as the inventor of the Wicked White Buzzer! Landed this one this morning. Weighing in at 3lb 6oz and caught on a #16 olive buzzer.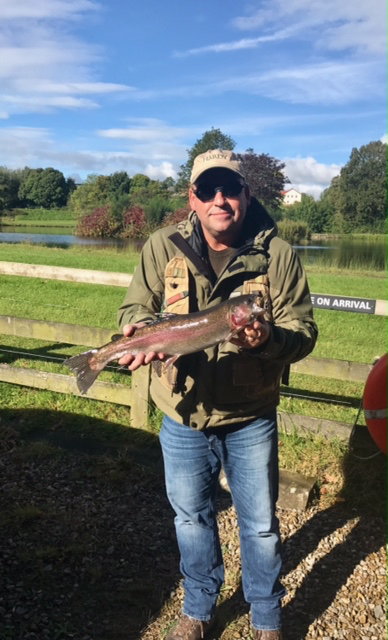 Wednesday 13th September
Phillip Totten from Lanchester with 3lb 1oz rainbow caught on a black tadpole. Wind was cool and got quite strong at times yesterday and Phillip found that an intermediate worked best for him. He passed the word and it worked for other anglers too. Phil ended up with fifteen trout overall - not bad going!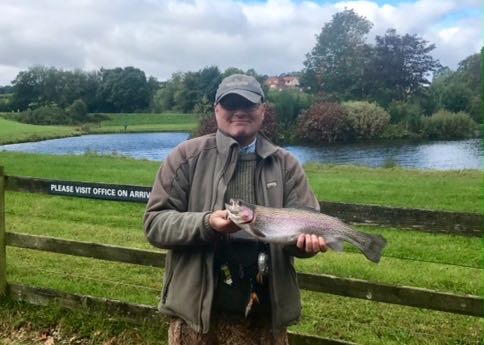 What's New in the Tackle Shop -
The New Flybox Eggstacy 15mm Blob material
Perfect for tying favourite competition blobs - Eggstasy is completly different from Fritz, and this gives the serious competition angler a whole new stlye of lure.
Looks great dry - looks fantastic wet!
Thursday 31st August
Gary Lawrence from Spennymoor took two nice trout of 3lb and 6lb. Taken on a Damsel and then an Olive Zonker so for him olive was the trout catching colour. Other anglers caught on olive squirmies and yellow or wicked white (black with white cheek) buzzers.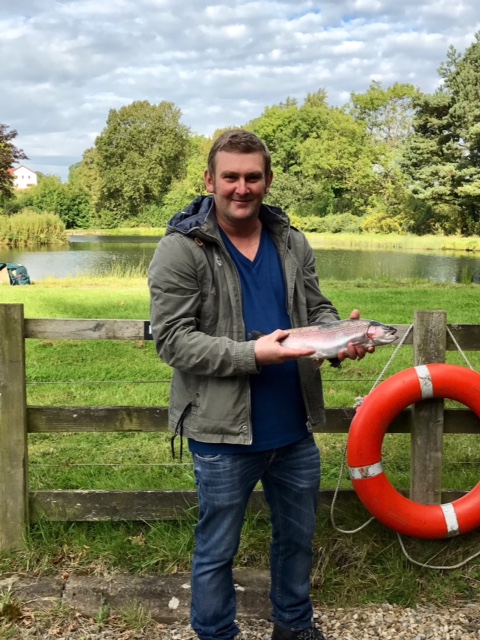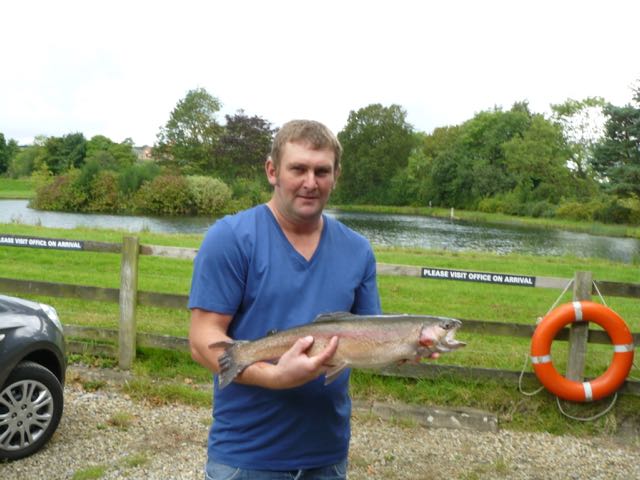 Wednesday 30th August
Stuart Hicks and Martin Fowler from Redcar had a good day - Stuart, below right, with a 4lb 8oz and Martin, below left, with a 3 pounder. Both were caught on a muddler on floating lines. Plenty of trout caught with Daddies and Black Beetles also doing well. Good day!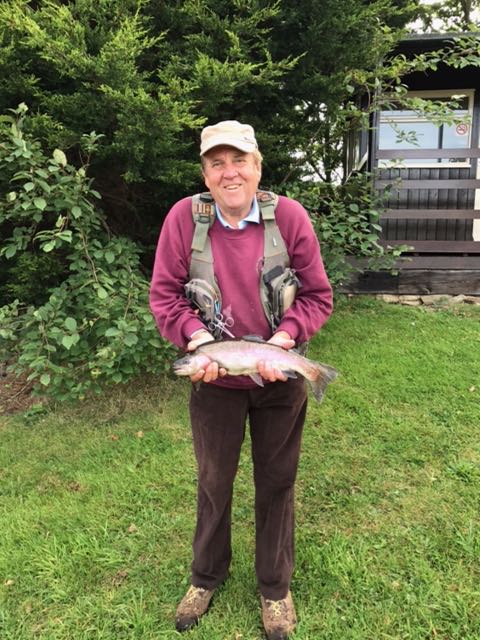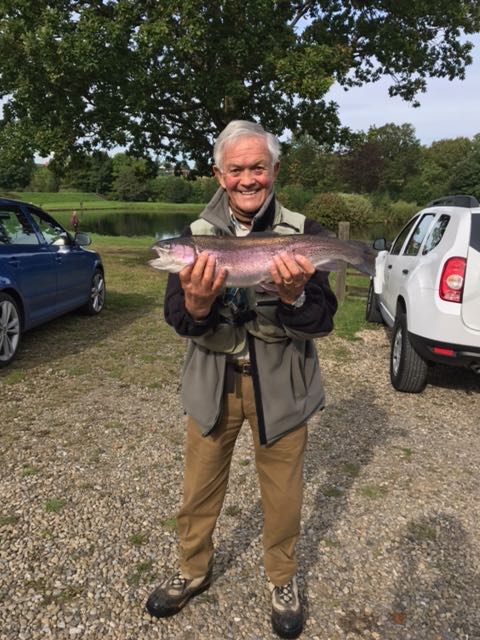 Tuesday 29th August
Open for fishing in the morning and hopefully another good week. No images for this last week which is a shame because we had some really good fishing. Daddies and CDC's still doing well - but we asked one of our regulars Alan Proud from Redcar what he had used. Use anything was his answer and he had landed twelve good trout to 8 or 9 pound. Lance Roberts from Darlington also landed twelve on a Fluff Cat and Black Cat and plenty of others had sixes and sevens so everyone happy.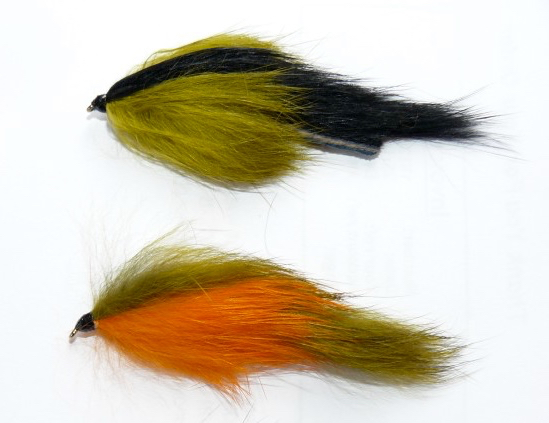 Couple of Blyth Palmers Fluffcats
Tuesday 22nd August
Over the last week -
Bit slow on Wednesday but otherwise a great weeks fishing with some really good sport especially on dry daddies.
Stuart Sexton from Darlington took a very nice trout this week at 6lb 5oz. He caught this and thirteen others on a black beetle. Pretty typical of the weeks fishing with a lot of trout taking off the surface.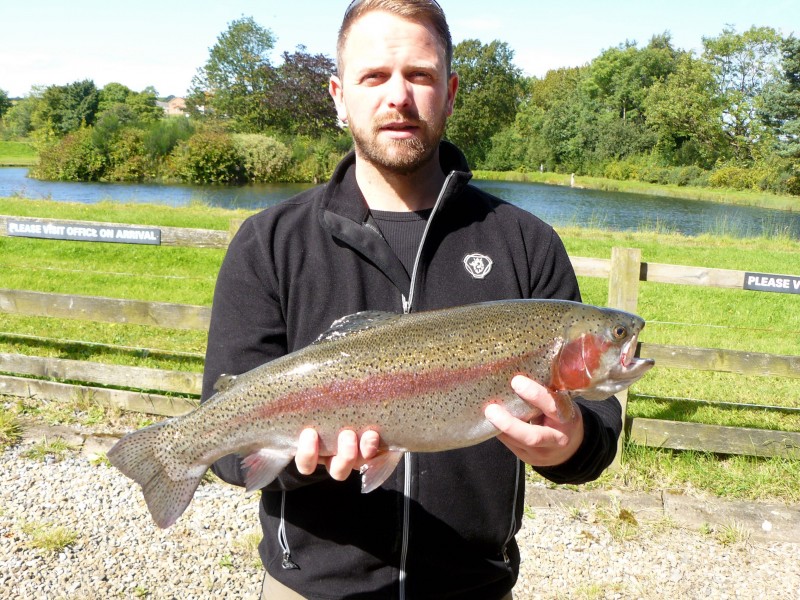 Keith Armstrong from Bishop Auckland landed a 3lb 4oz on the surface on a Daddy.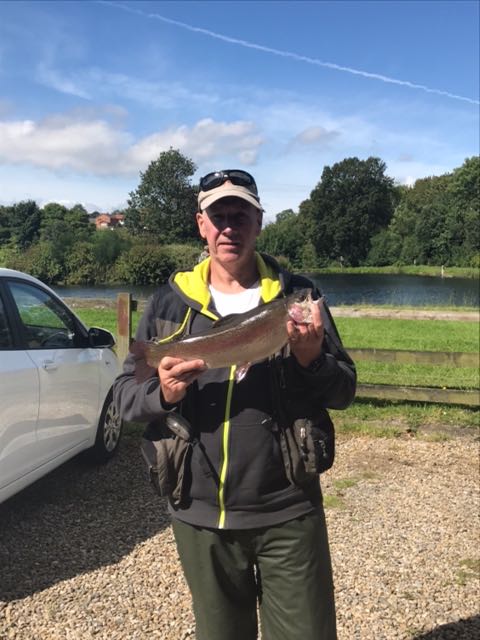 Junior anglers in the news this week:-
Young Hugo Mace, twelve years old, fishing with his Dad Jean François took a 3lb 12oz rainbow. They were on holiday here from France. They don't speak any English so we aren't sure what the trout was caught on but this was their second visit so we reckon they must like the place. See below to last entry for his image - we know his name now!
Eleven year old Daniel Skelton from Darlington also took a lovely rainbow of 3lb. He caught his very first trout (weighing in at 4lb 8oz) when his uncle Terry Young brought him here to teach him to fish in June.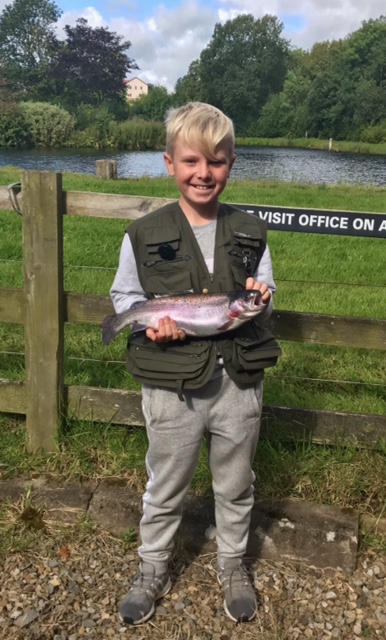 Whole range of patterns have been taking trout esp the Daddy but also Elk Hair Sedge, Shipmans, Fluff Cats, the Blue Zulu traditional wet fly, black hairs ears and black beetle. Good weeks fishing!
Thursday 17th August
Been another lovely day especially for a young gentleman from France who fished here today with his Dad (seen in the background). Young Master Mace landed himself a 3lb 12oz rainbow. Think it was caught on a Daddy but unfortunately though because neither of them could speak any English we don't know any more!!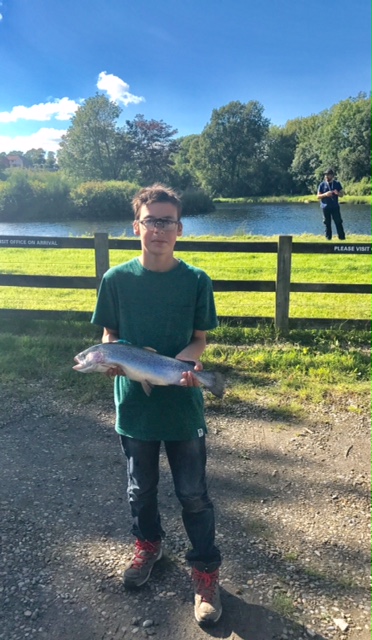 Weather for fly fishing here at Jubilee Lakes Stillwater updated Thursday 17th August at 8a.m. Absolutely poured during the night. Pity after such a tranquil day yesterday, see below - perfect peace! Fine now and warming up and brightening up nicely with a very gentle westerly breeze.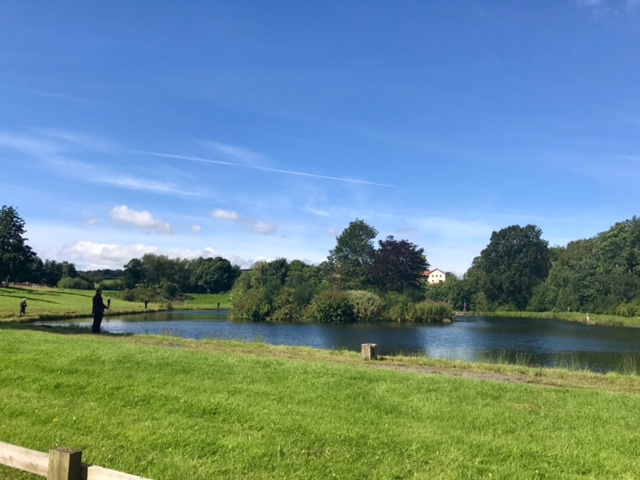 Tuesday 15th August
Fishing a bit slow this last week. Though Cormorants, Daddies and small black dries have done very well the trout don't seem to have been too keen on a lure.
Lower lake is in absolutely tip top condition but the top lake though it has fished well has been a bit weedy this last week or two. It's been given Dave's full attention and with this (slightly) more settled weather there are a lot of trout moving on the surface. Looked prime as he finished tonight. Perfect!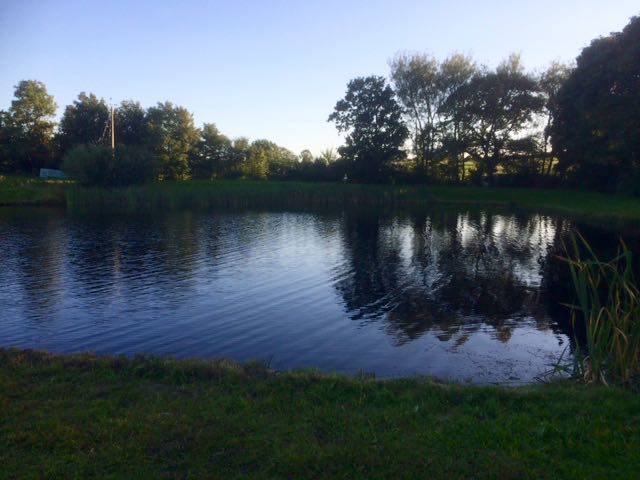 Thursday 27th July - New in the Shop!!
Flybox Fluorescent Bug Collars. Add weight and a pretty impressive hotspot to your flies. These are flat 2.8mm brass collars which slot into a countersunk brass bead. Flybox or Veniards beads would be perfect to use with them. Great way to get your flies noticed!
Tuesday 25th July
Many of this weeks anglers had at least 10 trout each - Terry Ross from Willington, George Oliver from Durham, P Hooks from from Exelby, Phil Totten from Lanchester who clocked up 16.
Anyway generally very good fishing for most and mainly on green & black patterns such as the Montana, the Fluff Cat, Buzzers & Bloodworms.
Happy Anglers!
Tuesday 18th July
Last week started slowly but then just continued to pick up with some very lively fishing. Although many fish were lost off there were still plenty netted to keep everyone happy.
Best patterns were Diawl Bach, Hare's Ear, the Wicked White (black & white) buzzer, the Damsel, the Daddy and the Cdc Emerger. A lot of trout were lost off when fishing the Daddy but there was certainly plenty of sport.
Lakes are still looking good in spite of the heat so lets hope that the fishing will continue to be good this week.
Just to mention also that we have just started to stock the Fario fly range. They're not on our website yet but we have them in the shop. Include strange patterns like the Whozzit - See below!!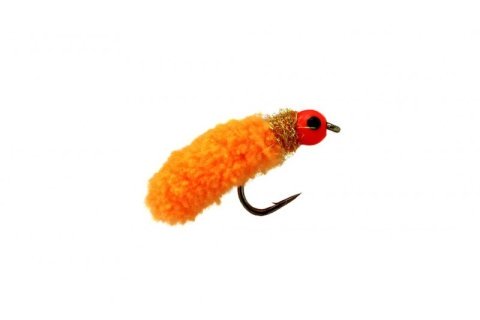 The Orange Wozzit
Tuesday 11th July
Fishing has been settling down again nicely with trout taking mainly on buzzers in the top foot or so of water. Damsels have also done well and trout are coming up and having a look at a Daddy or Dry but then often just not taking.
Phil Totten from Lanchester had the best trout taken this week weighing in at 7lb 10oz and caught on a buzzer.
Hopefully conditions will have improved and fishing more settled this coming week with the thunder and lightning out of the way.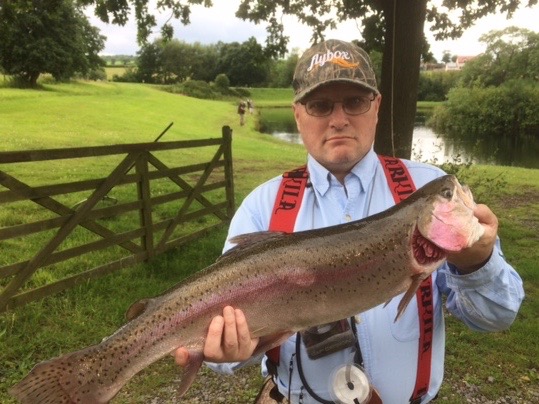 Phil with 7lb 10oz rainbow
Also just to mention for those who have been waiting - we've just had a delivery of Fulling Mill hooks and at last got some black Comp Specials. Go to our Anglers' Lodge website to order
Not before time either. And also a delivery of Partridge hooks. Must be Christmas!!
Tuesday 28th June
Can't say the fishing has been settled this week. The changes in weather, well over 30 degrees Monday and Tuesday then gale force winds and heavy rain have made the fishing quite tricky at times. So its still generally fished quite well but because we've had such excellent fishing lately its probably been slow by comparison.
Saturday was a fine example with strong winds and bright sunshine. If every trout on the flyline had been netted we would have had an excellent days fishing but the trout were taking short or no sooner on than off. Still trout caught but several of the anglers had 6-8 trout on and back off again. It's supposed to be relaxing!!
Best patterns this week have been the shuttlecock buzzer, daddy long legs, hopper, suspender buzzer (sometimes even stripped back fast) and the damsel. Lures not doing so much this week.
Tuesday 20th June
Fished really well again this week except for Saturday when it just got much too warm and very still. A big change from the weather we'd been having.
Fished well especially on CDC's, damsels and buzzers, the montana and hares ear plus the usual orange blobs and cats whisker. Some nice trout caught this week. The best taken was a good trout of 4lbs 5oz caught by Mr William Richardson from Peterlee on a Montana.
Its cooling off a bit today so we should get back to normal this week.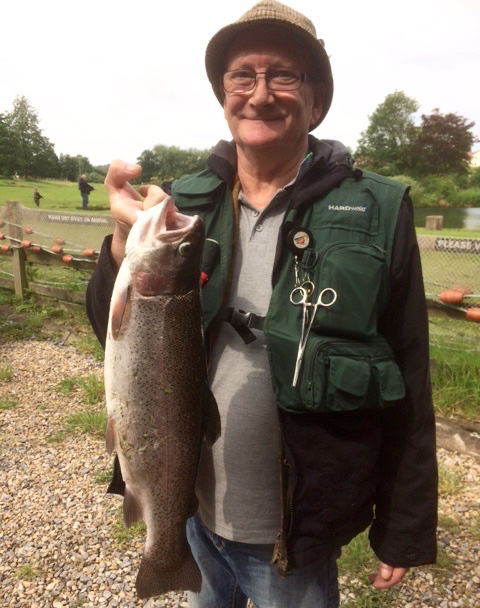 William Richardson with his 4lb 5oz trout
Tuesday 13th June
Really another great weeks fishing and sorry if this is getting boring!
Anglers catching on everything from foam beetles, CDC's and traditional dries on the surface to blobs, zonkers and cats whisker snakes deeper down. The water is lovely and the Lakes look really well.
Don't really quote averages because it depends on who's fishing but we averaged over 10 trout per rod again this week and most of the rods were only fishing four hours - pretty good fishing.
Just to mention due to a cancellation we have one rod left available for casting tuition, (trout, switch or salmon), on Friday morning. If you would like to book please phone us tomorrow, Wednesday on 01388772611 or email info@jubileelakes.com.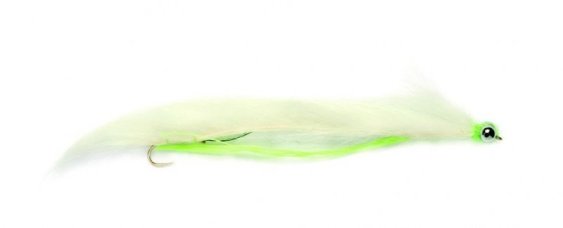 Cats Whisker Snake
Monday 12th June
Did you get our latest email? This one's for Fathers' Day. Keep up to date with what's happening on the fishery and in the tackle shop. If you don't recieve them and you'd like to just drop us an email at info@jubileelakes.com
Couple of offers from it are listed here just to tempt you!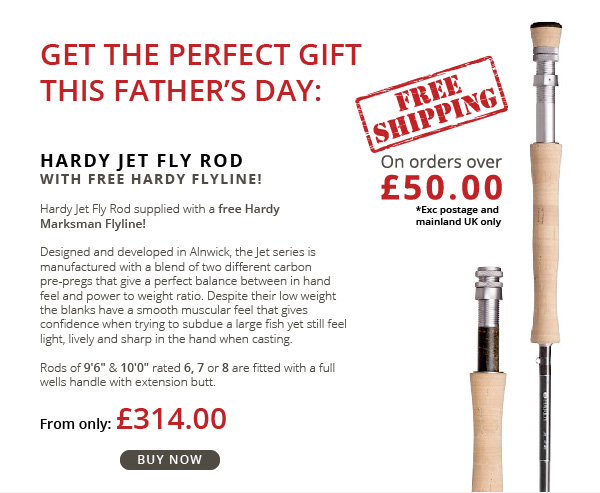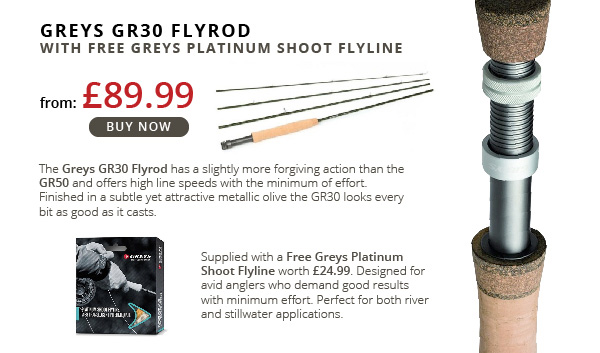 Thursday 8th June
Just in. If you can't see to tie your own flies don't stop tying instead have a look at the new OttLite Clamp Light & Magnifier and free standing Magnifier in our Lights & Magnification Section.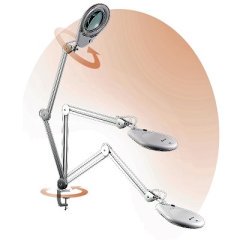 Perfect for viewing intricate details on the smallest flies.
Wednesday 7th June
Report to last Saturday:-
Bit more variable with the weather being a bit unsettled and towards thundery but the Lakes are still fishing really well (and even better this week).
The damsel on a floating line on the top lake or and intermediate on the lower lake has done exceptionally well and the takes on it have been ferocious. Even to the point when one of our most experienced anglers decided to use finger guards!
Buzzers, klinkhammers, tadpoles, black nymphs & montana's (black & green) have all done very well. It's the time of year when we have millions of tadpoles in the water and montanas and black nymphs, black dognobblers or black zonkers all seem to tempt the trout. Good on fishing either on the surface or deeper down.
Eleven year old Daniel Skelton from Darlington had his very first trout ever weighing in at 4lb 8oz and caught on a Montana. Good start for him and good luck for his future in flyfishing. See image below -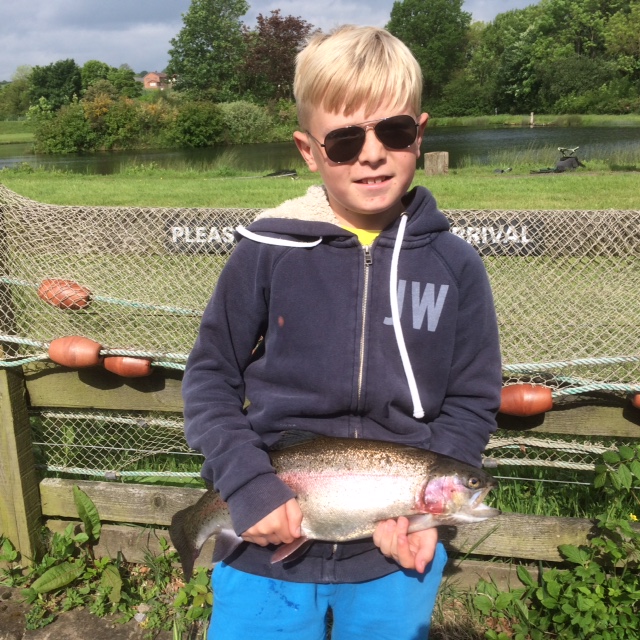 Mark Rylatt from Blyth, below left had a lovely 5lb 4oz caught on a buzzer and veteran of our Lakes and and good friend Jim Sullivan from Hexham, right took a 6lb 5oz on an orange tailed damsel nymph.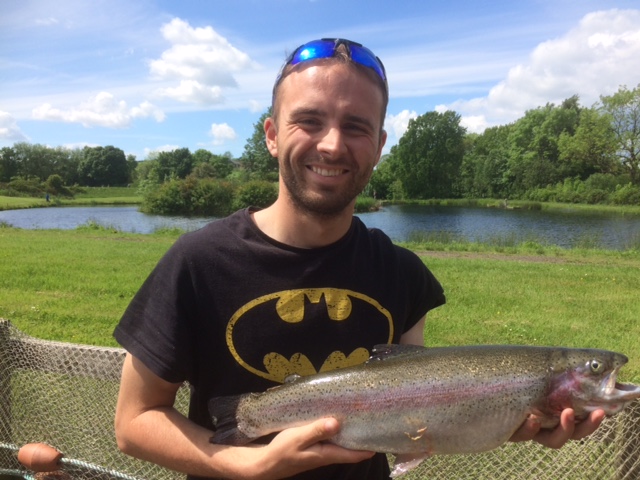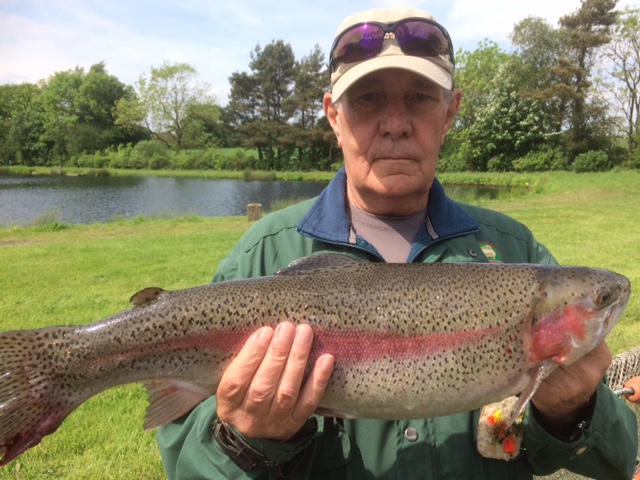 Thats it for this week - just excellent fishing. Our anglers are loving it - and we love it too!
Re Daniel Skelton and his first trout
Don't know whether you remember our post of a week or two ago regarding Markus Eichel. He was the winner of the Novice Category of the first round of this years Fly Fishing & Fly Tying Magazine Fly Tyers League which we sponsor. He was kind enough to donate his prize back to us to help children in our area to learn to fish. Markus said he would like to help young people experience the pleasure of fishing - might help them one day if their life gets tough.
We decided the best way to do this was to put his £40.00 voucher towards a junior outfit - an 8' Shakespeare Sigma Rod with matching reel and line. Well young Daniel Skelton was the first junior to use the kit and it brought him luck with his very first trout. Many thanks to you Markus Eichel - Daniel will I'm sure be the first of many youngsters to catch their first trout using the junior outfit - thankyou!
Tuesday 30th May
In spite of the weather, heat, rain and thunder the fishing has continued to be very good.
Some anglers have gone deeper with the orange blob, zonker and cat but still trout have mainly been caught on CDC emerger patterns, buzzers and beetles. The hawthorne fly and daddy long legs have also been a great favourite with the trout this week. I always think this is understandable - personally I would always prefer the larger meal - roast beef and yorkshire pud rather than a bit of a salad.
Anyway most patterns have been taken on or near the surface and still plenty of trout moving around though not as many right up on the surface with the heavier weather.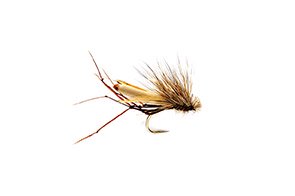 The Big Fat Juicy Daddyhog!!!
Thursday 18th May
Thinking of tying up some spider patterns but not sure what materials you need or where to find them.
Graham Barker from Edinburgh has just produced a whole range of beautifully tied patterns for us.
They're listed on our website with all the materials required to tie them. Head to our website to OUR NEW SPECIAL SPIDER SECTION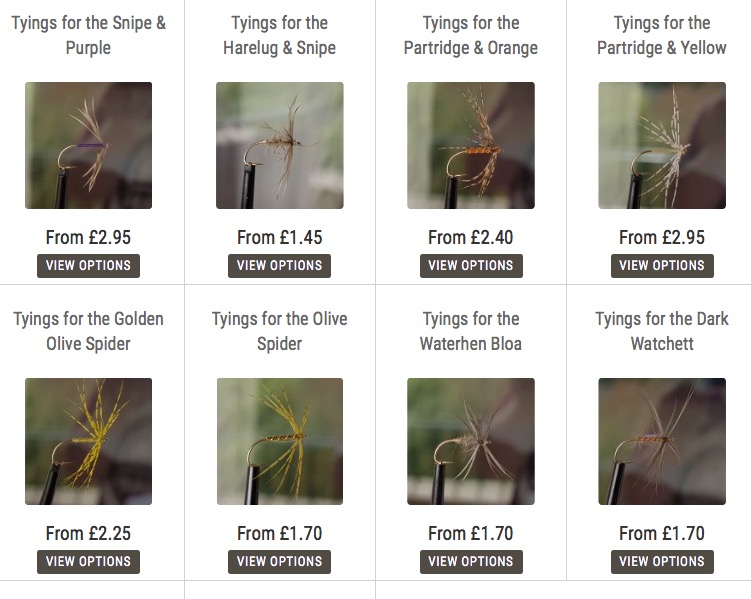 AND - A Fantastic sunset here tonight. You just have to see this - talk about a burning sky! Just looks fantastic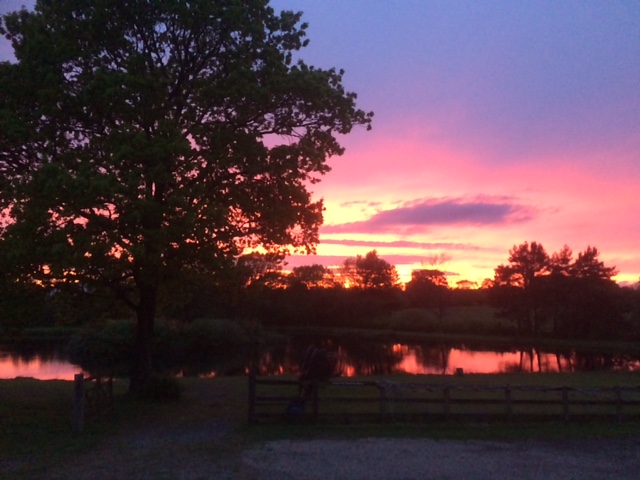 Tuesday 16th May
Report for the last week. But there is no report - the fishing just continues to be absolutely excellent. CDC emergers taken in the surface or just subsurface and Hawthorne flies, black hoppers or similar. When the wind has turned cold try a lure - orange & coral blob perhaps but not stripped rather fished like a buzzer with a figure of eight retrieve. Good fishing and good fish caught!
Monday 15th May
Really nice gesture from Markus Eichel. He was the winner of the Novice Category of the first round of this years Fly Tying League which we sponsor. He's been kind enough to donate his prize back to us to help children in our area to learn to fish. Markus said he would like to help young people experience the pleasure of fishing - might help them one day if their life gets tough.
We decided the best way to do this was to put his £40.00 voucher towards a junior outfit - an 8' Shakespeare Sigma Rod with matching reel and line. So often youngsters are trying to learn to fish with tackle suited to an adult, not ideal. Now we have the kit at the fishery and any junior coming here to learn to fish can use it. We should have thought of it sooner!! Thanks ever so much Markus, much appreciated.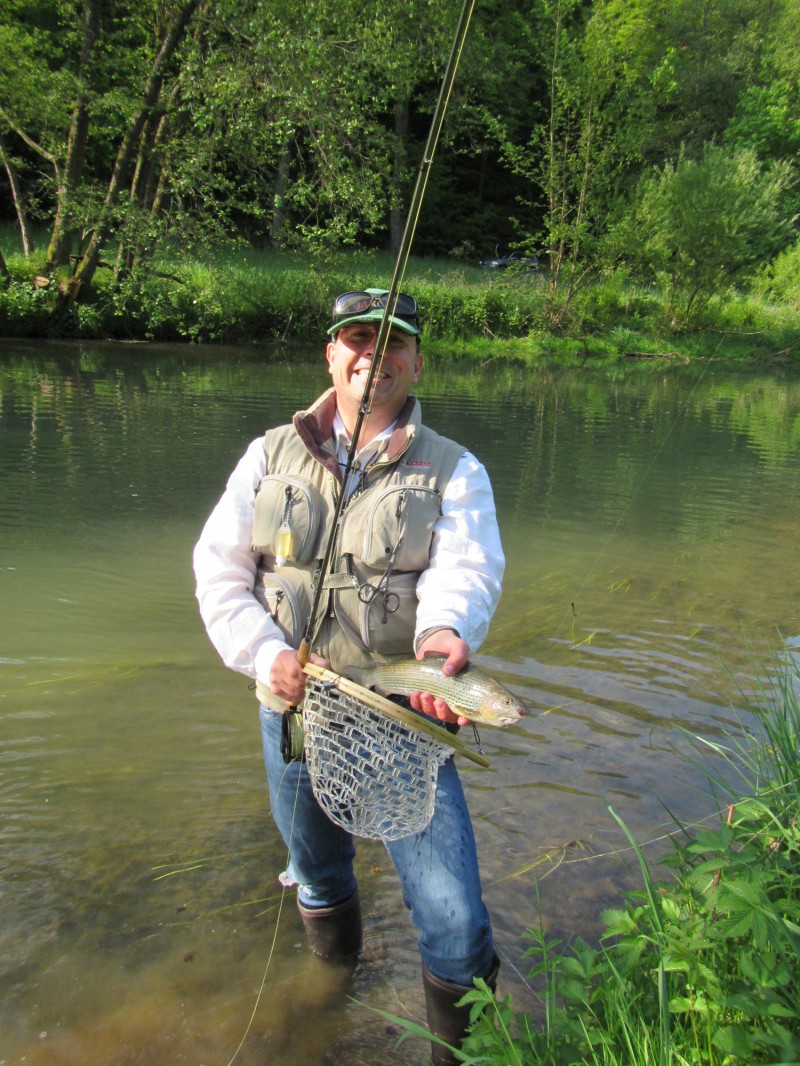 Above Markus Eichel with his first grayling, taken on an Adams #14 in spring last year at the Wiesent in south of Germany. Good Luck Markus!
Monday 8th May
Fishing has continued to be very good with a lot of trout rising and a lot of trout being caught but the method has changed towards the end of the week. Although the wind has been consistently easterly lately the weather from Thursday started to turn especially bitter. The trout continued to rise but whereas they were taking very readily on or just under the surface they started to come to the fly but not actually take it or else take it then spit it out. Takes were not so confident as they had been.
To Wednesday the black buzzer, CDC Emergers such as the Shipmans and Shuttlecock buzzers were doing really well. They have still done well through the week and on the top lake a large foam daddy has been especially effective but there have also been more trout caught on lures especially when there has been times when there has been no sun to warm the cooling effect of the wind.
Still the rises have been excellent with plenty of trout moving and plenty of trout caught whether on the surface or deeper down on lures such as the red bead damsel and the hot head taddy.
Best trout taken this week was the 5 pounder in the image below, one of 12 caught by Blyth Palmer from South Shields on his Fluffcat but there have also been a lot of good trout returned.
Thursday 4th May
Another absolutely excellent days fishing. Mainly on CDC emergers and buzzers (again). Blyth Palmer always bucks the trend though. He had 13 trout last time he was here at the weekend and another 12 today. He had a lovely 5 pounder this morning but caught on his favourite pattern - the Fluffcat.
Blyth has six favourite patterns he uses here but they aren't standard stuff. He's been kind enough to let us have a look. No emergers here - they aren't his style - but these are certainly deadly patterns.
Left from top: Orange & Coral Blob; Yellow Buzzer - this has the finest silver glitter in the varnish; Black buzzer with a tiny red bead head, red wire rib and the finest peacock herl collar.
Right from top: The Fluffcat; The Double 'O' - (olive & orange); finally the Olive Zonker.
Blyth's tip - vary the retrieve!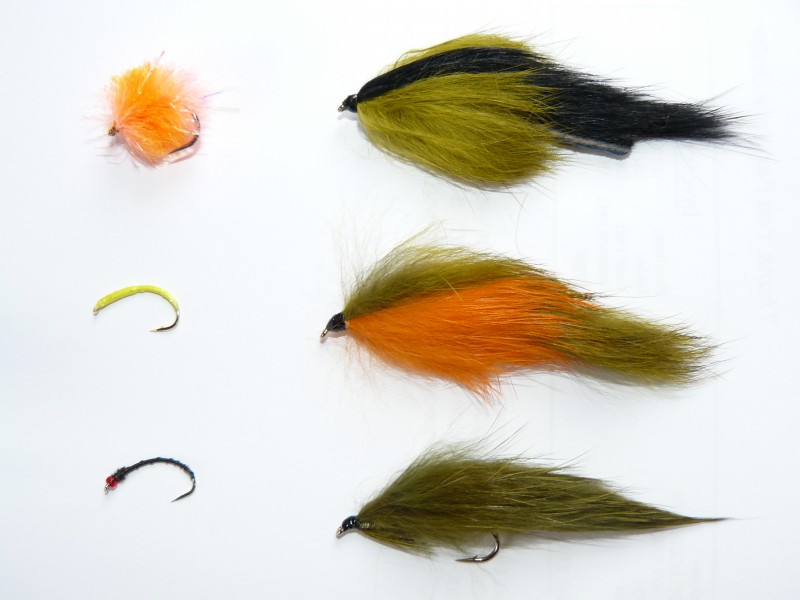 This was Blyth's 5lb trout caught this morning....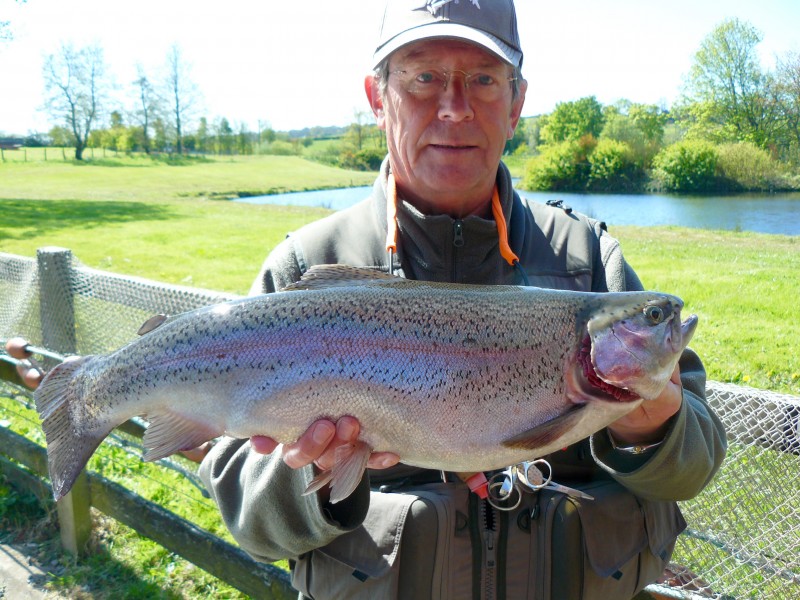 Report to Saturday 30th April
Just brilliant fishing consistent on buzzers, cdc's often just subsurface and damsels expecially with a hot head bead. This is definitely the best spring fishing for years and I have to say we are loving it!
Blyth Palmer from South Shields, below left took a lovely trout of 10lb 10oz on a fluffcat while Stuart Ryan from Coxhoe, below right took a 4 pounder and 4lb 4oz on a taddy. Good fishing to be had whether on the surface or deeper down on a lure.
Anglers were especially impressed with the size of the trout and the fitness of the trout. Review from one of our anglers who came down from Edinburgh:-
'Visited jubilee lakes yesterday and have to say it is the best run fishery I have ever been to, the quality and size of fish is something else and I have the line burns on my hand as a reminder of how hard they fight, I had around 8 fish between the two lakes and two I lost where into double figures, the near 6 hour round trip was worth it and will be made again in the near future'.
To be truthful we were absolutely delighted with this when we read it on our Facebook page so had to include it. It's lovely when one of the anglers has a really good day.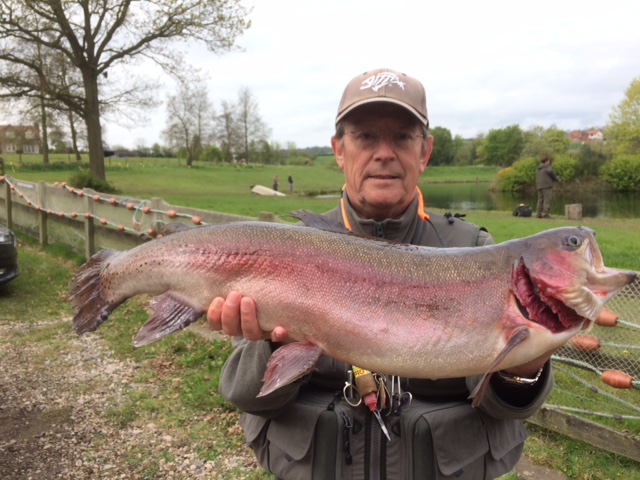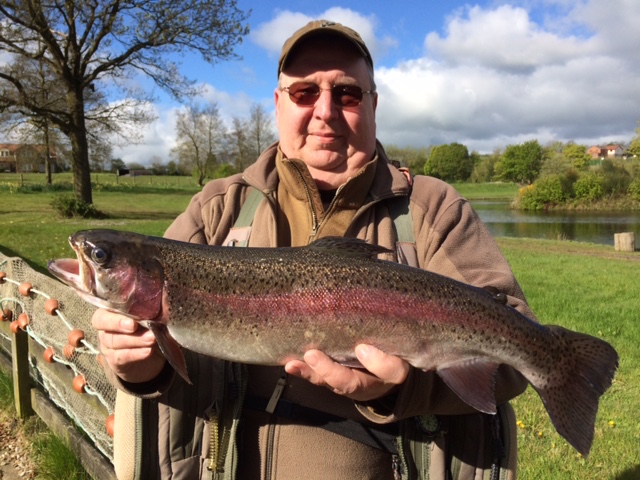 Just in from Hends
We are often asked for barbless lure hooks and struggle to get them but take a look at the new barbless lure, lure/ long shank nymph and wet fly hooks from Hends. These are strong hooks and good value at just £2.95 for 25. Click on any image to take you to the website.
Just to mention for those calling at the shop today we've got some great reductions on clothing from Greys & Vision. Go to our CLOTHING SECTION to see whats available but prices are even better in the shop!!
Report to Saturday 22nd April
Lots of trout topping and tailing all over the lake and taking just sub surface. Overwhelmingly the CDC Emergers have been the most effective but very small sizes to immitate the minute midge hatching in the warm sunshine in sheltered areas of the lakes.
Buzzers are also doing very well and when they fail the black fluffcat - Blyth Palmers favourite pattern has worked very well - and even the orange blob if need be. On warm afternoons trout on the top lake have started to take the dry Hawthorn - a sure sign things are warming up.
We ask anglers not to forget our 'Bring a Beginner' ticket. Bring someone new to the sport at no extra charge and share your tackle with them while you teach them to fish. Great way to bring someone new into fishing with no outlay on their part. See Harry Walker here last year with Grandad John and Dad, also John from Bishop Auckland.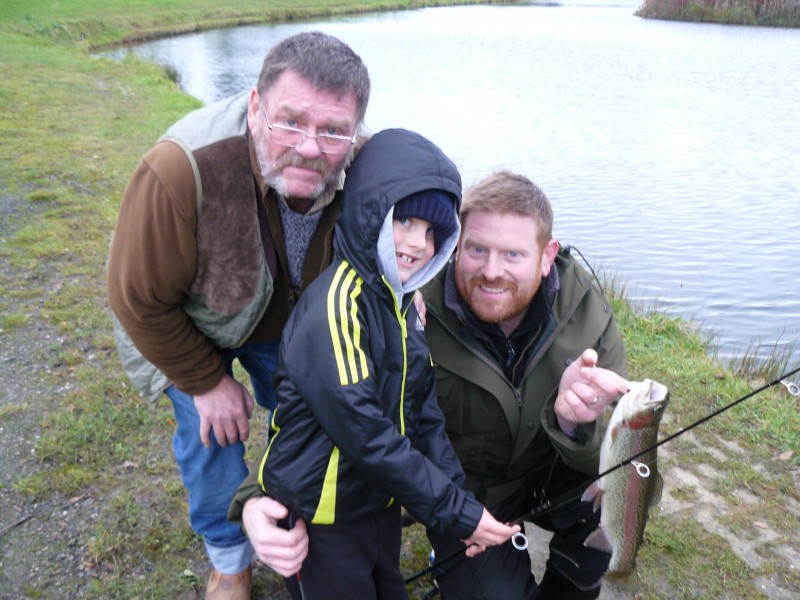 Report to Saturday 15th April
Another good weeks fishing but on small & lighter patterns so if you are a lure fisherman may be a bit of a tricky week - but thats how it goes!! Buzzers on the bottom lake, olive or black and CDC's, esp Shipmans on the top lake.
Interesting but in the shop I've noticed the tiniest buzzers on the windows - I reckon size 26 or 28, absolutely tiny. So that's what you are competing with - and that's what flyfishing's about. Love it!!!
Sample of the little beastie! This is the 'dry' midge. Use a Shipmans or any emerging CDC to represent it emerging. For the 'wet' version (pre emerging) use a buzzer pattern.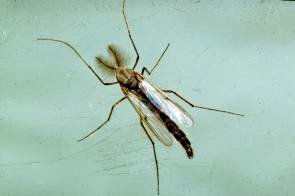 Weather Conditions here for flyfishing updated at 8a.m Friday 14th April.
Milder but overcast with a steady lighter westerly breeze
Look what was just outside my window this morning - what a neck!!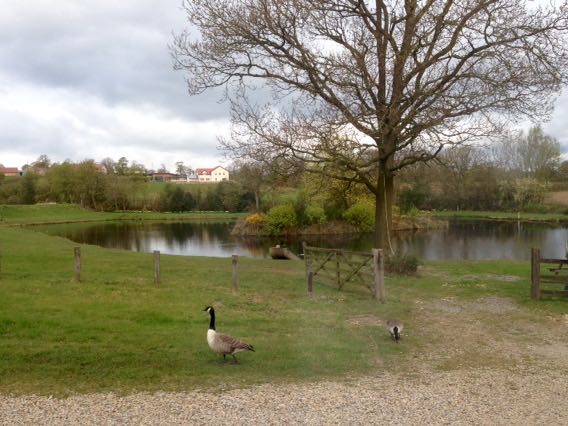 Report to Saturday 8th April
Excellent fishing again though not quite so predictable this week.
Most of the week the trout have been very happy on CDC emergers and dry flies but then as the week has gone on and the weather has changed the trout on the top lake have been just subsurface on tiny flies such as the F Fly or tiny Klinkhamers - Shaun Burnside from Aycliffe had four up there in just half an hour before he had to head for home.
The bottom lake continued to fish well with trout generally between 3 and 41/2 lb or better caught mainly on a plain black buzzers but on Saturday they weren't having any of it. Then Blyth Palmer from South Shields discovered the orange blob was the answer. He passed the word and others also caught well on the same pattern. To keep the day respectable though Alan Proud from Redcar caught a dozen trout on CDC Shipmans buzzers on the top lake and olive buzzers on the lower lake. Takes all sorts...
Re our Open Day last Saturday 1st April
We had an a great day with a really good turnout. Representatives Jim Fearn, Andrew Sowerby & Jim Williams didn't have time to take a breath and gave us a really good day with loads of information and plenty of opportunities to try rods & lines and to match lines to their existing rods with tackle from Hardy, Vision, RIO, Greys & Shakespeare. To be truthful it was perfect - just a shame it had to absolutely team down mid afternoon - April Showers??
Some images....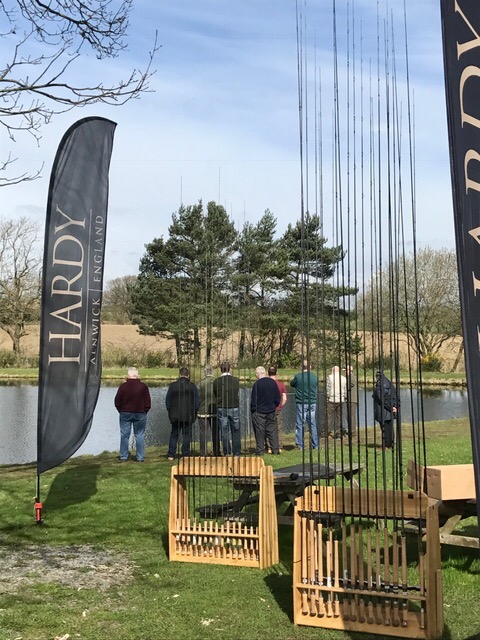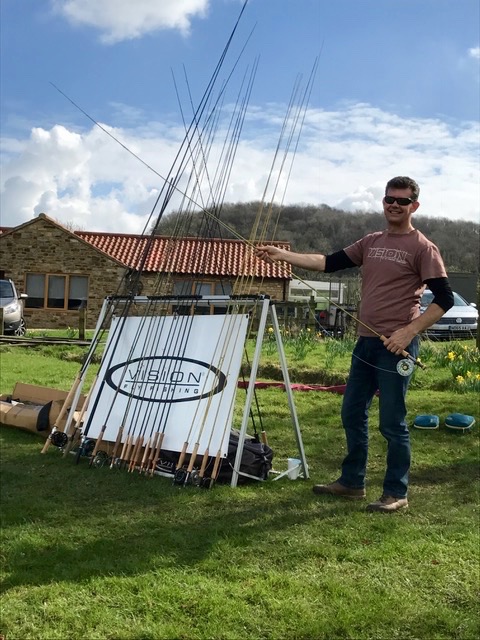 Hardy Flags & Rods & Jim Williams from Vision (right)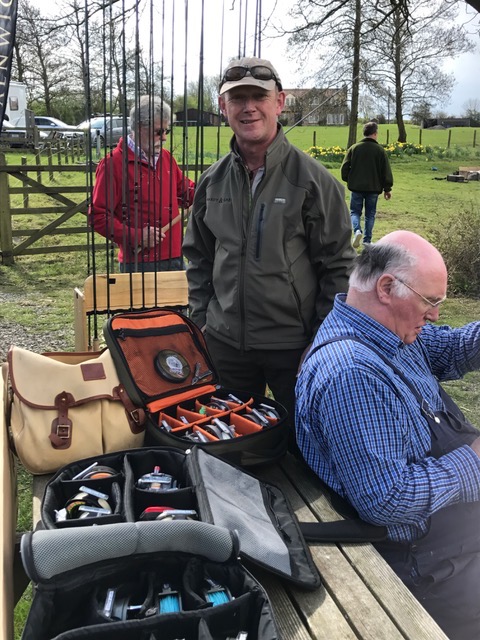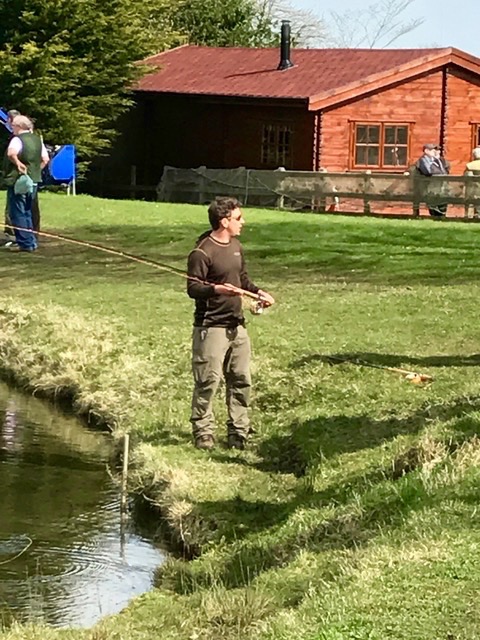 Andrew Sowerby from Hardy taking a breath and Jim Fearn From Vision (right)
Above & below Jim Fearn doing a Switch Rod casting demo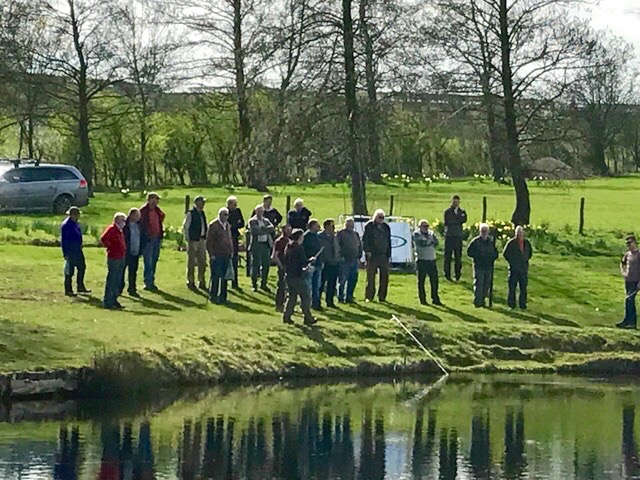 Fishing Report to Saturday 25th March
The fishing is absolutely excellent with plenty of trout being caught on traditional dries such as Whickhams & Greenwells, CDC Emergers, small black & green nymphs, damsels, Cats Whiskers & bloodworm - so whatever your style of fishing the trout are probably going to show interest. And the weather is lovely too!!
Lovely trout in the image caught by Mr Reg Bascombe from Darlington. This is about our average size at the moment with most trout weighing from 31/2 to 4lbs and in lovely condition.
An important reminder for April Fools Day - this coming Saturday 1st April. For those not Fooling around we have Rio, Hardy, Vision, Greys & Shakespeare here from 11a.m to around 2.30. Rods are here to play with - lots of them. Lines are here to try, bring your own rod to match up. And just speaking to Jim Fearn, at around 12 to 12.30 on April Fools he will be doing a special talk and demo on Switch rods and Switch casting technique. We've asked for this specially this year because we think a lot of salmon/ seatrout anglers aren't too sure about how to use them but like the idea of a shorter rod.
It's a great day, completely free and no pressure. Please note - no fishing that day.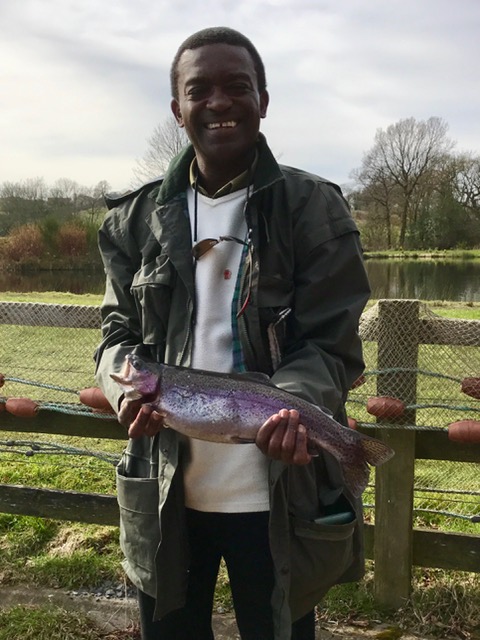 Fishing report to Saturday 18th March
Generally fishing well but not that many anglers prepared to brave the wind this week so its a bit of a limited fishing report.
Wednesday was definitely the best fishing day with better conditions and no strong winds damsels were very effective and black & green nymphs such as the viva. On other days with blustery winds the patterns were much more varied though the trout weren't deep and especially on the top lake were steadily rising and up there the odd CDC pattern was working well together with bloodworms and buzzers and still the zonker.
Weather report for the next few days isn't great but hopefully the cold spell will soon pass and it won't affect the fishing too much - let's face it you have to be an optimist to be an angler!!
Saturday 11th March
Just to prove us wrong - I did think they'd be on CDC's this week but the trout have in fact been taking mainly on lures.
CDC emergers and Daiwl Bachs & bloodworm have all caught but black or olive zonkers and black & green lures have been more effective and the best method to fish them has been on an intermediate stripped backed fast. They've been just below the surface and in the mood to chase the fly. Hopefully that won't last for too long. As a method it's a pretty energetic way to fish.
Just to mention that we have our 'Open Day' coming up on April 1st - yes April Fools Day. We'll have Rio, Hardy, Vision, Greys & Shakespeare here from about 11 til 3 ish. It's a great day to come and have a look round.
Fly Rods & Lines will be available to try here on the water at Jubilee Lakes. Not to be missed - if you've ever bought a rod without trying it you will know why this is such an important event. Match lines to your own rod, try new rods or look for a complete new outfit. Decide for yourself or for advice Andrew Sowerby, brand manager from Hardy, Greys & Shakespeare and Jim Fearn from Rio & Vision, one of the worlds top salmon casters, will be here to guide you.

To Saturday 5th March
Have had some brilliant fishing except for Saturday which proved awkward but even then one of the anglers caught on dries on the afternoon.
The rest of the week buzzers, cats, diawl bach, march brown wets & blobs have been very successful. A great time of year for fishing and I'm pretty sure it won't be long before the CDC shuttlecocks are catching. I'm sure they would have today - there were a lot of trout moving around just sub-surface.
On the Tackle Front - because we never mention tackle much on this page and our own anglers say they are missing out on our deals we will mention odd deals at the end of the fishing report each week - so you can ignore or read on.
For a start our rods & reels are almost always cheaper if you can call in to the shop but if you can't then phone in for a price. Also we include a free 4 hour ticket if you travel to the shop to buy a rod. Then check out the home page of our sales site for all specials at www.anglers-lodge.co.uk. And also on our home page our Massive Fly Tying Sale is in full flow, online and in the shop. More items are being added to this almost daily.
And just to mention that the Vision Onki Fly Rods have at last come into stock. Great name isn't it?? You've got to get your hands on it though - don't forget that you can try a rod on our lakes when you are buying a rod here. The Onki retails at £199.99 with introductory offer of a free Vision Attack Line worth £29.99. The latest from Flybox - the Single-Wave Pseudo is also now on our shelves and on the website.
Flybox Single-Wave Pseudo Vision Onki Fly Rod with free Attack Line
To Saturday 25th
Well we've really only had anglers on the lakes for two days this week because of the weather - and because of the weather forecasts - not always the same thing!
Shame because the lakes are fishing REALLY well. Patterns like the damsel, the buzzer (with a gold bead head when it was really bright) and also the snake fly in cats whisker colours have been good. Been worth looking at the depth when fishing because when the sun has been really bright the fish have really gone down quickly and anglers have had to change to weighted patterns to catch them.
Anglers have averaged over 6 trout each and that nearly all on four hour tickets so some great fishing. Having been here almost every day for the last twenty eight years I often think its the day length that livens the trout up rather than the weather - bit like us when the lighter nights come!
Also
Just a couple of things to mention.
We now take Credit/ Debit Cards & PayPal payment for the fishing. Always have done in the tackle shop. Also we're giving a free 4 hour catch & release ticket to anglers travelling to the tackle shop to buy a new flyrod. Get the chance to try them out on our lakes!!
The shop is just bursting at the seams with tackle at the moment. We've got some really good prices on fly rods and rod outfits with new outfits being listed every day. Also go to the website or call in at the shop - we've got a massive flytying sale on, just started but being added to on a daily basis. Its been nearly 15 years since our last 'massive' sale of materials. We keep the stock pretty sharp but there is so much new stuff coming through we're having a complete blitz - so some great bargains to be had. Online go to our Home Page for early season offers, outfits & the flytying sale.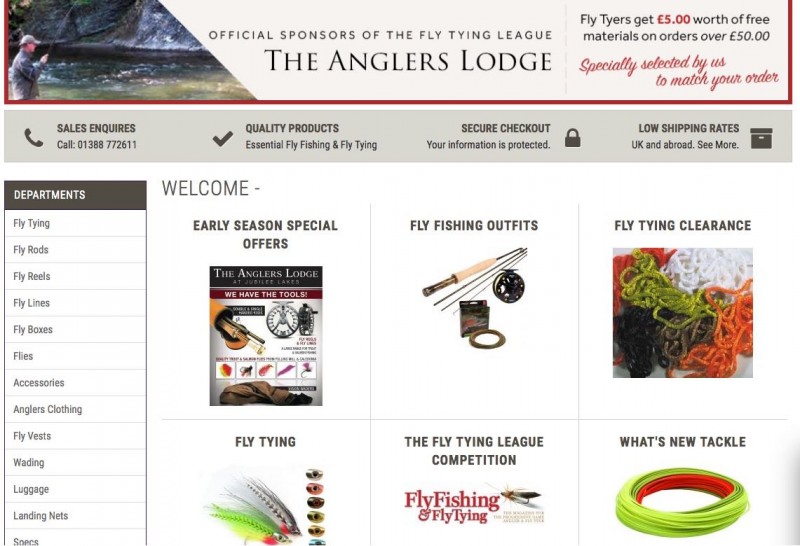 Had to put this on - put it on our Facebook site and we've had loads of hits & comments. Roped our Dave in for a bit of modelling - well had to twist his arm a lot. This is the new Kust jacket from Vision & Hardy Logo Cap - and Dave!!
If you fancy the jacket go to https://www.anglers-lodge.co.uk/product/vision-kust-wading-jacket/ if you fancy Dave you're too late mate - already taken. He reckons he has that long-suffering look about him!!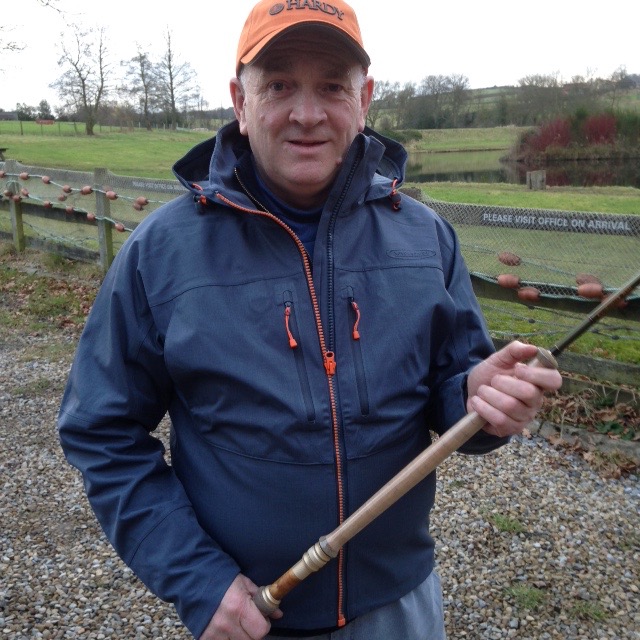 February 19th
Just had a great weeks fishing. The trout seem to have realised that the weather is changing - and so have the anglers. Have had quite a few out to fish this week and they've done really well. Darren Frame from Newcastle & Eric Carmichael from Rowlands Gill, both new to the fishery, easily had full returns and so had several others. The most effective pattern has been the Cats Whisker but other patterns such as small black & green nymphs have also done very well.
Best trout taken this week was caught by Mr Frank Courtman from Startforth and weighed in at 3lb 8oz. Looks dark in the image but you couldn't see the silver flank - think it was slipping through Franks cold hands!
Just to mention - we have a special offer for the start of the season. Anglers calling at the tackle shop to buy a rod will get a free 4 hour catch & release ticket for the fishery. (We have even better prices here in the tackle shop and masses of new tackle just arrived). Also don't forget that we now take credit/ debit card for fishing (at last)!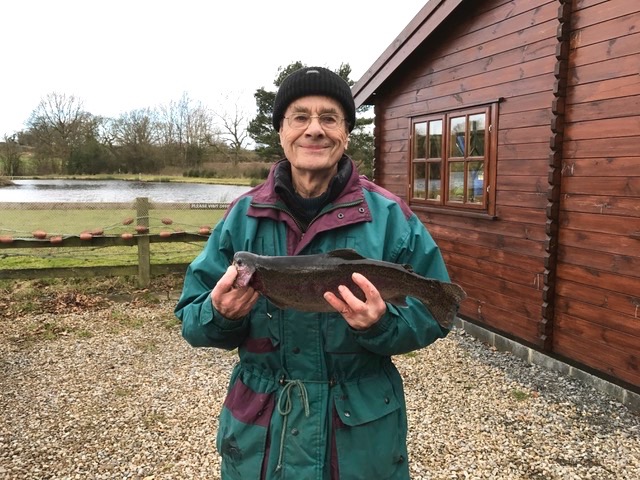 Our latest special offers in the tackle shop or online (www.anglers-lodge.co.uk)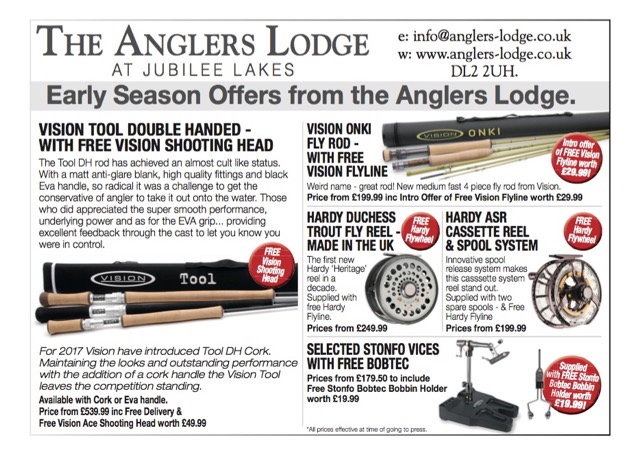 Friday 20th -
Just delivered and new for 2017, going on our shelves now.

NEON Hackle is latest product in the Flybox NEON Series.
This material is a 12mm Straggle made entirely of non-translucent NEON Fibres (same as Flybox NEON Flashabou). This straggle is perfect for all styles of mini lures, competition patterns and even wet flies. Available in a range of super-bright fluorescent colours.
£3.00 per packet or a Range Pack available with all 11 colours for £28.95.
Click on the image below for full details.
The weather has been kind this week even to the point when it's been mild enough for the odd trout to be caught on the surface. Generally though the buzzer and bloodworm have done best and the grey zonker or black fluffcat.

Image is of Stuart Sexton with one of the thirteen trout he took on his four hour ticket. Was a bit misty & wet but he used the bloodworm and the buzzer to catch on the top lake and the bloodworm and fluffcat on the lower.

To update we will be open Wednesday, Thursday & Friday only on Christmas & New Years week.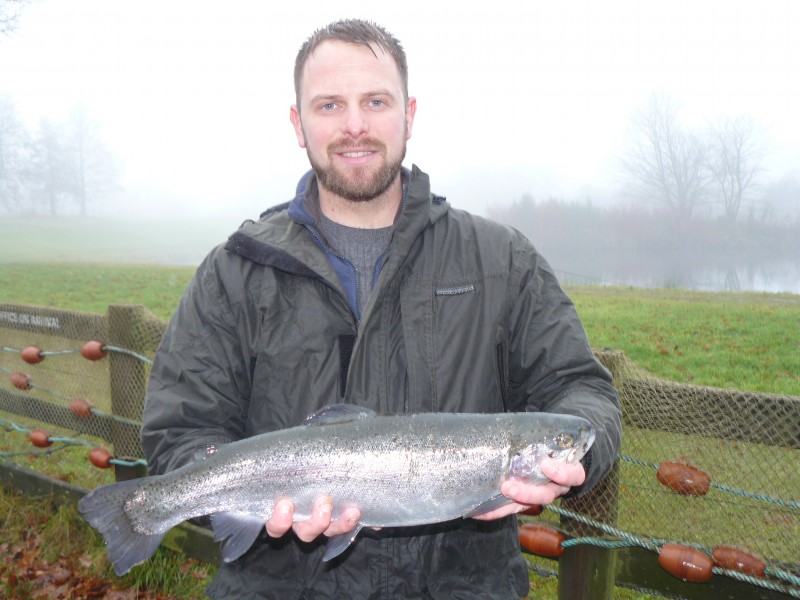 Dec 4th
Good weeks fishing though not many anglers about - all Christmas shopping no doubt! Best patterns have been the Diawl Bach and the Dawsons Olive.
Phil Lennox, below, took his trout, just short of 4lb on a chammy bloodworm
Just a reminder that we are open as usual up to and over the holidays except for Saturday December 24th and Saturday December 31st when we will be closed. (Open the Wednesday, Thursday & Friday of those weeks as usual).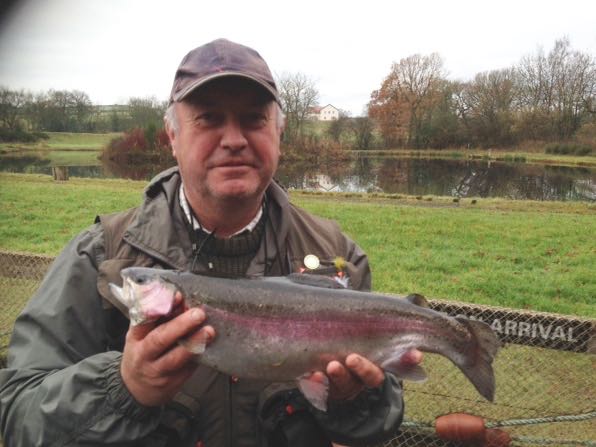 Dec 1st Thursday
Weather at Jubilee lakes this morning. Struggling because its too early for a photo - still dawn grey. Lovely ripple, no frost and looks as though its going to get out a nice day
November 26th
The view across the lower lake from the anglers cabin as we locked up tonight. Stunning!!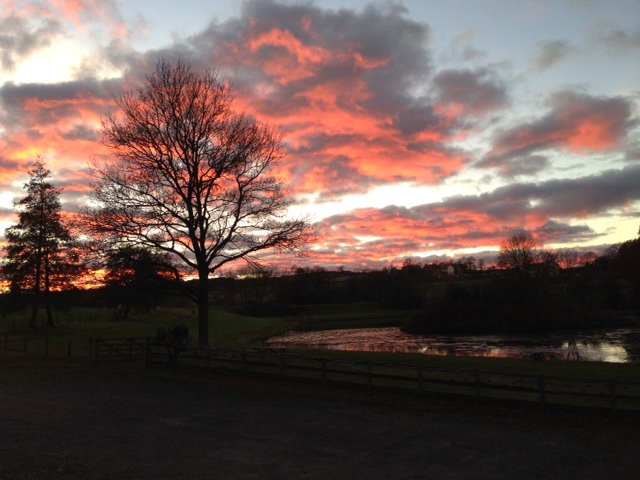 November 26th
Bottom half of the lower lake iced up this morning - and we could have taken bets on this for the last week in November. We've been here since 1988 and this happens for just this week almost every year. Hopefully it will now clear up until after Christmas. Top half of this lake is clear and so is the top lake.
November 23rd Thursday
Weather very much as yesterday. Very calm, no frost and the sun looking likely. Go to our Jubilee Lakes Facebook page for a little video - Lakes are so still it looks almost like a photo.
November 14th
It's very difficult to produce a useful report at the moment as we've had very few anglers out fishing these last two weeks. The ones who have fished have mainly been on catch & release so no useful details or images unfortunately. It's a shame because although it's been windy on the coast we are really quite sheltered and for most of the time it has been very still here as the cold north and easterlies have generally missed us.

Anyway it's not that cold and the trout are taking well for those who are venturing out. James Campion from Bi